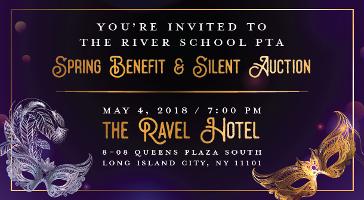 Welcome to the Online Silent Auction for the River School P.S. 281 PTA!!!
From April 1, 2018 until the auction closes at the annual Spring Benefit on May 4, 2018 River School P.S. 281 PTA will be auctioning off these fun and unique items to raise money for our organization - and the more money we can raise the more we can help our kids!
Check out the many incredible gift certifcates to restaurants in Murray Hill, Kips Bay, Gramercy Park, and across the city.
There is memorabilia from Sesame Street, Broadway, the Yankees, Mets, Giants, Nets, and other sports teams.
There are classes and camps for the kids and cooking and language clases for the kids (or the parents).
Don't miss all the tickets to Yankees games, Disney World, Luna Park, and Carousels!
Check them all out!
Get in as many bids in as you can!
Read descriptions closely and look out for opportunities for MULTIPLE winners! You could come in second, third or fourth and still win!
You can take items home the night of the auction (preferred!!!) or arrange to pick up items from the PTA by May 11, 2018. After May 11, all items will be shipped and shipping costs ($7-$20) will be added to the price of the item.
Live Event Details
Fri May 4, 2018
7PM - 10PM EDT
Ravel Hotel
8-08 Queens Plaza South Long Island City, NY 11101
Add to My Calendar
Get Directions
Help support our community school at the River School Spring Benefit & Online Silent Auction on Friday May 4, 2018 at 7:00pm!
The River School (PS 281) opened in 2013 and how includes kids from Pre-K through 4th grade. Our fledgling school has cultivated a warm, wonderful, diverse community and we'd love to share it with you, our friends and neighbors!
Our Spring Benefit is a party for parents, teachers, staff, and community members to celebrate our school together. There will be food, drink, music, dancing, and a silent auction to raise money for the school. The funds raised pay for professional development for our passionate teachers, and enrichment programs to bring art, coding, and more into our classrooms.
Tickets are on sale now!
Also register to bid, browse our auction catalog, and place your bids.
If you have questions about buying tickets, bidding, or about items in the auction email the Spring Benefit Committee at springbenefit@ps281.org
See you there!
Become a Sponsor
Place your company's logo on our site that links back to your own web page and you could develop new business. We can track how often your logo is viewed and clicked to see just how many people are accessing your site. Email us at springbenefit@ps281.org !
Get a bid in on these hot items!!!