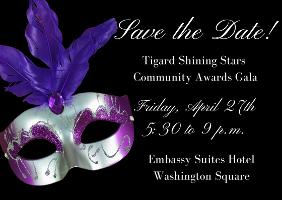 Tigard Chamber of Commerce (TCC) is hosting a silent auction at the Tigard Shining Stars Community Awards Gala on April 27th.
Join us on April 27th from 5:30 to 9 PM at the Tigard Shining Stars Community Awards Gala at the Embassy Suites Hotel - Washington Square. This event honors Tigard volunteers and businesses.
This event has a silent auction from 5:30 to 6:50 PM for the Tigard Chamber of Commerce. The money raised from this event goes towards Tigard Chamber programing and events.
Check out the amazing items that will be in the silent aution.
Live Event Details
Fri Apr 27, 2018
5:30 PM - 9PM PDT
Embassy Suites- Washington Square
9000 SW Washington Square Rd, Tigard, OR 97223
Add to My Calendar
Get Directions
Grab your mask and get dressed up for a night of celebrating our local shining stars. Starting at 5:30 PM, enjoy a dinner, silent auction, dessert dash and award ceremony. Come help celebrate the Tigard Community with the recognition of scholarship recipients, Tigards First Citizen, From the Heart and Youth Volunteer Awards and several chamber awards all while enjoying a formal evening! Tickets are only $55/person.
Become a Sponsor
Give your business some additional visabilty in the community by becoming a table sponsor for the 2018 Shining Stars Community Awards. For more information, please contact Loni at Loni@TigardChamber.Org.