Live Event
Sun Apr 2, 2017
5:30 PM - 9PM MDT
Space Foundation World Headquarters & Discovery Center
4425 Arrowswest Dr Colorado Springs, CO 80907
Donate Now
A Galactically Good Time for a Great Cause!
Let the bidding BEGIN! More items still to come so check back often.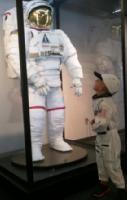 Inspiring the next generation of scientists, engineers and technology professions
The Space Foundation is holding an auction with 'out-of-this-world' items to raise money for our education programs!
The third annual Space Foundation Yuri's Night is a fundraising event that supports our Science, Technology, Engineering and Mathematics (STEM) education programs. It also celebrates two major milestones in humanities history – man's first journey into space and the first Space Shuttle flight.
Purchase tickets HERE.
Why STEM? Why the Space Foundation?
STEM is driving our global marketplace. It is the fastest growing career field, and the Space Foundation has spent the last 30+ years developing innovative programs that engage, inspire and propel thinking to the next level. Our programs contribute to a pipeline of an educated, curious, and equipped workforce for future generations. We annually serve more than 20,000 students and teachers from all over the US and world, providing authentic, hands-on STEM experiences that inspire the next generation of explorers and innovators.
Every $10 is another student inspired to reach for the stars. Imagine the student you could impact when you bid!
Can't attend Yuri's Night but still want to participate?
If you can't make it to the event, you can bid online from where ever you are starting March 21 and still support us! The bidding closes for all items at the event on April 2nd at 8:30pm. You can place maximum bids, and then get notified if you have been outbid.
And please refer your friends and family to bid on our auction items! A great thing about our auction is that anyone, anywhere can support us by bidding for items in the auction and not be at the event. We will ship items to winning bidders (plus shipping costs). Please share our link with the Refer Friend button on the left!
A Special Thanks to our Generous Event Sponsors!
Raytheon * Ent Credit Union * Crystal Peak Design * Keysight Technologies