Donate Cash
Auction Links
"From what we get, we can make a living; what we give, however, makes a life."
The NASC Sports Legacy Fund awards an annual grant to an organization in need in the host city the NASC Sports Event Symposium.
The Sports Legacy Fund is a way for members of the sport tourism community to make a personal and lasting impact on sports programs and initiatives that serve the underprivileged throughout the country.
An emphasis is placed on donations to not-for profit organizations that provide individuals, particularly at-risk youth, veterans, or physically or intellectually disabled individuals, opportunities to participate in sport and encourage healthy lifestyles. This contribution is part of the legacy the NASC leaves in each host city.
Since 2009, the NASC Sports Legacy Fund has donated more than $90,000 to beneficiaries in the host cites of the NASC Sports Event Symposium.
Contact Elizabeth Young, Director of Membership and Marketing, for any questions relating to the NASC Sports Legacy Fund.
Watch this short video to learn more.
HOW TO CONTRIBUTE
1) Add a cash donation when you renew your organization membership or register for the 2017 NASC Sports Event Symposium
2) Donate a silent auction or raffle item
3) Sponsor a silent auction/raffle table ($100 per table)
4) Bid on a silent auction item
5) Purchase raffle tickets ($5 for 20)
6) Volunteer for NASC Sports Legacy Fund Community Service Project
7) Buy a drink or appetizer at one of the supporting restaurants in Sacramento from March 27-30, 2017.
SWEET VICTORY
SWEET VICTORY is a specialty cocktail that has been whipped up just for us! Each
one ordered sends $1 to NASC Sports Legacy Fund. Also, any appetizers ordered will see a $1 donation. The active dates are March 27-30, 2017. Please show your name badge to have the donation applied.
The three participating restaurants are all an easy walk from the host hotels and convention center.
• Cafeteria 15L ( 1116 15th Street ) cafeteria15l.com
• MiX Downtown ( 1525 L Street ) www.mixdowntown.net
• Firestone Public House ( 1132 16th Street ) firestonepublichouse.com
Live Event Details
Tue Mar 28, 2017 2:30 PM -
Wed Mar 29, 2017 6PM EDT
Sacramento Convention Center - Exhibit Hall A
1400 J St, Sacramento, CA 95814
Add to My Calendar
Get Directions
The NASC Sports Legacy Committee organizes a silent auction and raffle to raise money for the Sports Legacy Fund at the NASC Symposium each year. Proceeds from the auction and raffle support the 2017 beneficiary, Sacramento Police Activities League, as well as the establishment of the NASC Sports Legacy Fund endowment.
NASC Symposium attendees may purchase raffle tickets or bid on silent auction items during Sports Marketplace hours. Winners will be announced at the conclusion of Happy Hour in the Sports Marketplace on Wednesday, March 29 at 6:00 p.m. PT.
Raffle prizes (under $500 value) and silent auction items ($500 and over) will be on display in the Sports Marketplace during exhibit hours for the duration of the Symposium. Attendees may browse, bid on auction items and enter for a chance to win raffle items during during these hours.
Auction and raffle winners will be announced on Wednesday, March 29, 2017 at 5:45 p.m. in the NASC Sports Marketplace.
Winners do not need to be present to claim prize. However, we do ask that you make arrangements to pick up your items at Registration and Member Services prior to the offical closing of the 2017 NASC Sports Event Symposium.
The 2017 NASC Sports Legacy Fund Beneficiary is The Sacramento Police Activities League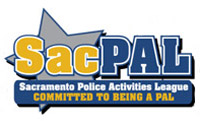 The Sacramento Police Activities League is a 501(c)(3) non-profit organization that strives to make a difference in the lives of at-risk youth in underserved communities. Each of their programs have at least one (1) Sacramento Police Officer who serves as a coach and/or mentor and to help foster positive relationships between law enforcement and the community. Together, employees of the Sacramento Police Department and members of the community volunteer their time to provide valuable opportunities, develop leadership skills and teach meaningful life lessons that prepare participants for a better, more successful future.
SacPAL's mission is to "instill in our youth positive citizenship principles through quality educational, recreational and civic programs."
More than 100 NASC Members To Help Clean Up Seymour Park in Sacramento, CA
In addition to providing the 2017 beneficiary with a cash donation, this hands-on community project is a way for sport tourism professionals to give back to the host city and leave a lasting impact.

More than 100 volunteers will help improve a local under-served park including mulching around trees and cleaning up the playgrounds.
Volunteers will help improve a local under-served park including mulching around trees and cleaning up the playgrounds.
Breakfast, transportation, and a volunteer souvenir will be provided. There is no fee to participate, only a commitment of your time and energy.
Sign up when you register. If you've already registered and didn't sign-up, email info@sportscommissions.org to register.
Schedule
6:30 AM - Grab and go breakfast
7:00 AM - Depart from Sacramento Convention Center (J Street Lobby)
7:15 AM – 10:15 AM - Volunteer for needed tasks
10:30 AM - Return to Sacramento Convention Center