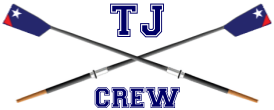 New Items Have Been Added! Last Days to Bid!
The TJ Crew Holiday Auction is now open. The auction will run from November 24, 2017 to December 13, 2017, with proceeds going to TJ Crew Boosters, Inc. - a 501(c)(3) charity - in order to support the crew team of Thomas Jefferson High School for Science & Technology in buying much needed equipment.
The delightful auction items donated by the TJ community are sure to include something you or someone on your holiday gift list would enjoy! Please register to bid and come back often, as new items will be added throughout the auction.
And please accept a big thank you to all our generous donors & bidders from TJ Crew.
Make Your Bid Now to Support TJ Crew!
Now is your chance to get a great item you want and help support our mission to support TJ students compete at a high level in a wonderful, lifelong sport.