Live Event
Wed Dec 4, 2013
5:30 PM - 8:30 PM EST
Top Bidders
jsd5d1265

$3,100

bs227be1f

$1,900

bp1819b9d

$1,350

kbb9528c3

$1,056

tn92778ea

$1,000
The Uncle Sam Project Auction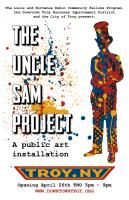 The Uncle Sam Project was a 6 month public art installation that transformed the street scape of Downtown Troy with 30 6-foot tall Uncle Sam statues. Artists from all over the capital region, as well as several school groups, were given the opportunity to re-imagine this iconic figure. The Uncle Sam Project was made possible by the generous support of the Louis and Hortense Rubin Community Fellows Program.
The Downtown Troy Business Improvement District is auctioning off a number of these fun and unique Uncle Sams to raise money for the BID. Click on the View All Items button to view all of the Uncle Sam's up for auction. Click on each Sam for item details. Bidding is open from Monday, November 11th, and will end during our Annual Dinner on December 4th at 8pm.
The Downtown Troy BID is a 501 c3 organization and funds raised will support the Uncle Sam project and activities of the BID to revitalize Downtown Troy. Proceeds raised from the auction of statues created by school groups will benefit those schools directly.

For more information on the event click HERE
To purchase tickets for the Annual Dinner click HERE