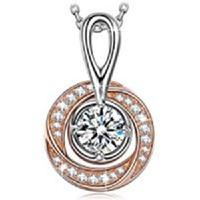 "The London Eye" Pendant - one of our 100 raffle items. Click on link below to view all.
The Van Cortlandt Jewish Center is having a live event on March 4th, 2018, including the live raffle! Online ticket sales end March 3rd at 10PM - winners need not be present to win.
Starting immediately, the Van Cortlandt Jewish Center is selling raffles for 100 items in a Pick-Your-Prize Raffle. You get to choose which item(s) you want to win - what could be better than that?


Go to http://vcjewishcenter.org/march-event-and-raffle where you can view the details of and purchase tickets to the live event, plus view the 100 raffle items and purchase chances at winning! Please note there is a nominal service fee for the online purchases, to cover the cost of credit card processing.
Thanks to our sponsor, Ridgewood Bank, for donating the door prize!
Everyone in attendance at the live event will get an entry into the raffle for the door prize - a basket of goodies including a $50 VISA gift card, donated by our event sponsor Ridgewood Bank.
Click here for event flyer: http://vcjewishcenter.org/march-event-and-raffle/march-event-info/