Description
Frank Luntz is recognized as a top political pollster and communication expert in nearly every industry with his public opinion work. Most recently Frank Luntz has worked for CBS News as a crisis communications expert and a political analyst, running focus groups during and after presidential debates, and is a frequent commentator on Fox News. One of his prominent hobbies over the years, has been to collect iconic American memorabilia and renovate his mansion into an immersive catalog of historical treasures.
You will be given a personal tour from Frank Luntz himself in his 14,000-square-foot mansion in Brentwood, California. The home is a showcase of the most impressive collection of American arcana. The shrine to presidential patriotism consists of six bedrooms and 13-bathrooms. The house boasts a spectacular room with an exact replica of the Oval Office reflecting more than 70 years of presidential history adjoining a complete replica of the Lincoln Bedroom, a vast media collection of first editions and prints, extensive memorabilia collections, and many more extraordinary characteristics. From the bowling alley to the shooting range, the news stand to the movie theatre, his sneaker collection, to the art and sports memorabilia, you can be sure that you've NEVER seen a house, or a collection, like this before.
Guests of the Lincoln Bedroom within the home have included Tony Blair, Clint Eastwood, Warren Beatty, Dana Carvey, James Caan and Tim Allen.
This is your exclusive chance to visit the breathtaking 4-story mansion where every wall, of every room, is lined with remnants infused with significant historical, cultural or political value. With Frank as your guide, you'll be treated to 2 hours of fascinating background, stories, information and anecdotes behind the collection.
This Experience Includes:
(1) Tour of Frank Luntz's personal house, led by himself, for (2) guests, scheduling subject to Frank Luntz's availability.
Printed copy of 'The Story' of Frank's collection
Concierge service to assist you in planning this exciting experience
Please visit our website at https://charitybids.com/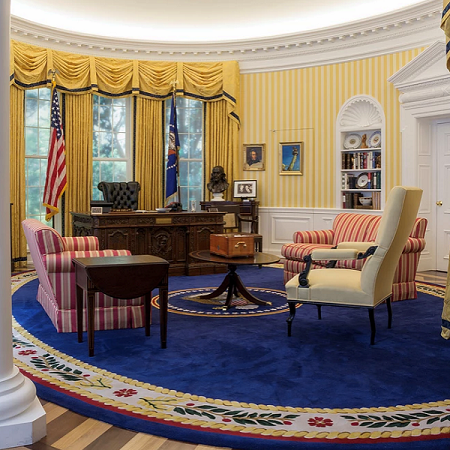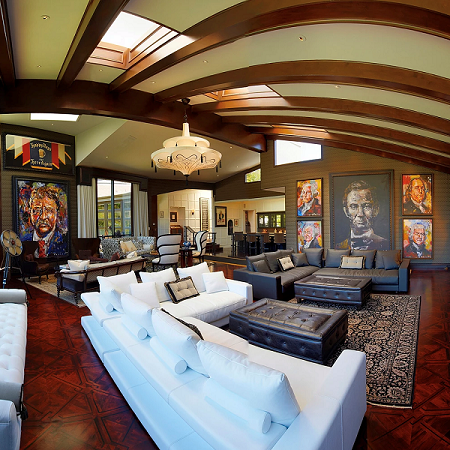 Vendor: CharityBids
Special Instructions
STANDARD TERMS & CONDITIONS
Along with each Experience, you will receive a Certificate that includes information on, and instructions on how to start booking, Your Experience. In consultations with You and following Your reasonable instructions, one of Our travel concierges will finalize the booking. Excluding experiences tied to specific dates, You must book Your Experience a minimum of 60 days before the date You* travel for Your Experience, and within one year of the date You won Your Experience. Further, You* must travel for or otherwise take Your Experience within 18 months of the date You won Your Experience. Your Experience is non-refundable and may not be transferred or resold.
If airfare and/or lodging are/is included with Your Experience, then i) air travel is available to and from any major destination within the 48 contiguous United States or Canada (only where described in inclusions), subject to availability, ii) You* may not be able to use air miles to upgrade Your* coach class flights, iii) You* are not guaranteed that the flights booked for Your Experience will be eligible for accumulation of air miles, and iv) You may modify and/or upgrade flights and/or hotels when using Our concierge to book Your travel, and will be charged separately for any additional associated costs. If airfare and/or lodging are/is NOT included with Your Experience, Our concierge is still available to assist You in booking travel and/or lodging if You request assistance, and You will be charged separately for all associated costs.
Except when the description of Your Experience specifically states otherwise, the following blackout dates apply: the week of each New Year's Day, Thanksgiving, and Christmas. You will be charged separately for any airport departure taxes, fees or fuel surcharges, where applicable. Ground transportations is not included unless specifically stated in the description of Your Experience. By redeeming Your Certificate and taking Your Experience, You agree that the supplier and/or booking agency is not the provider of any components of Your Experience (e.g., flights, lodging, tours, activities, meals, etc.) and will have no responsibility or liability in connection with any of the components of Your Experience or Your Experience as a whole.
DISCLAIMER OF LIABILITY - We act only as agent for You in acquiring or sourcing transportations, hotel accommodations, meals, tours, and other privileges or services from airlines, hotels, and other providers for Your benefit, and on the express condition that We shall not be responsible for any loss, accident, injury, delay, defect, omission or irregularity which may occur or be occasioned, whether by reason of any act, negligence or default of any company or person engaged in or responsible for carrying out any of the arrangements, or otherwise in connection therewith, whether or not such intentional or careless actions or omissions result in any loss, damage, delay or injury to You or Your travel companions or group members. We shall not be responsible for any injuries, damages, or losses caused to the traveler and traveler assumes complete and full responsibility for, and hereby releases Us from any duty of, checking and verifying any and all passport, visa, vaccination, or another entry requirements of each destination, and all safety or security conditions at such destinations, during the length of the proposed travel. By embarking upon Your travel, You voluntarily assume all risks involved in such travel, whether expected or unexpected. You hereby expressly release and discharge Us from all such claims, demands, injuries, damages, actions or causes of action.
Note: * 'You' or 'Your' used in these contexts includes any other traveler taking Your Experience with You whose inclusion was provided in Your Experience's description e.g., airfare or hotel "for (2)', etc. as well as any additional travelers arranged by Us in connection with Your Experience. 'We', 'Us' and 'Our' used in these contexts includes us and our partners & affiliates.
Phone: (888) 909-2437