Description
Stefano Ricci, the high-quality Florentine fashion designer, is known around the world for his art of fine Italian tailoring and luxury lifestyle. His collections, entirely handmade, range from men's clothing to elegant home collections and fragrances. Stefano Ricci has boutiques in Abu Dhabi, Paris, Monte Carlo, Beijing, Beverly Hills, Singapore, Dubai, Milan, Kiev, Macau, St Petersburg, New York, Shanghai and many other fashion capitals of the world. Stefano Ricci is arguably the greatest men's designer of our time, and this exclusive opportunity will give you an inside look, with three different tours, into his empire.
You will be picked up in Florence with a luxury car and driven to your private tour of Antico Setificia Fiorentino, The Old Silk Factory, where bespoke orders of high-end silks and fabrics are made using original machinery designed by Leonardo DiVinci. The factory is currently owned, and operated, by Stefano Ricci and family. You will see how custom fabrics are made for their long list of exclusive clients -- estates and palaces around the world from the Kremlin in Moscow to the Villa Medici in Rome. Your tour at the Old Silk Factory will conclude with a 3-course private Tuscan lunch prepared by one of the Ricci family chefs.
Your driver will then take you through the windy roads and beautiful views of Florence to your next stop: The Stefano Ricci Headquarters in Fiesole. You will see their skilled workers working with leather, producing ties and silverware, and you will witness some of the finest craftsmanship ever. After visiting the factory, your driver will bring you to the Stefano Ricci Flagship in Florence. There are stores, and then there are visual wonders that happen to be stores; the Stefano Ricci Flagship is without a question the latter. In striving for the look of a centuries-old palace, the beauty of this store will make you feel as if you are back in time while walking amongst some of the most luxurious leather goods displayed perfectly in handcrafted walnut cases and cabinets. You will be served drinks and refreshments as you look in awe at the beauty of Stefano Ricci's work.
To top off this incredible experience, you will have the chance to choose from a variety of silks made at the old silk factory, which will be sent to Stefano Ricci's workshop where he will make either a custom tie and handkerchief set or a ladies scarf for you. You can be sure that your one-of-a-kind gift from the man The New York Times has hailed "Clothier to the 0.001 Percent," is something that'll truly make you stick out in any crowd!
Whichever location you visit of Stefano Ricci, you will feel like a royal as you admire the most luxurious pieces of handcrafted design. You do not want to miss out on this exclusive experience!
This Experience Includes:
A private, 45-minute tour, of Antico Setificio Fiorentino for two (2) people, subject to availability.
A private, 3-course Tuscan lunch at Antico Setificio Fiorentino for two (2) people.
A private tour of Stefano Ricci Headquarters and workshop in Fiesole for two (2) people.
A visit to the Stefano Ricci Flagship in Florence for two (2) people.
A private driver in a luxury car for 4 hours for two (2) people.
A one-of-a-kind, custom tie and handkerchief set or ladies scarf, by Stefano Ricci from your choice of fabric for one (1).
Concierge service to assist you in planning this exciting experience
*All tours are subject to availability and are available from Monday - Friday.
Please visit our website at https://charitybids.com/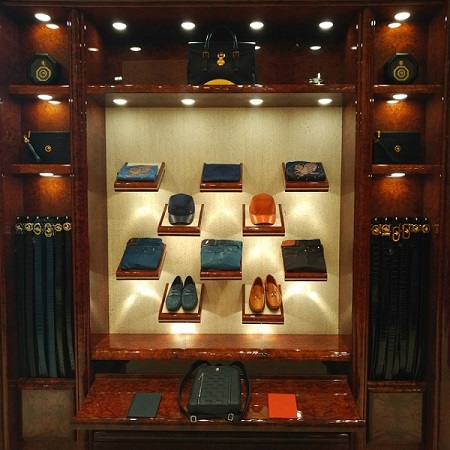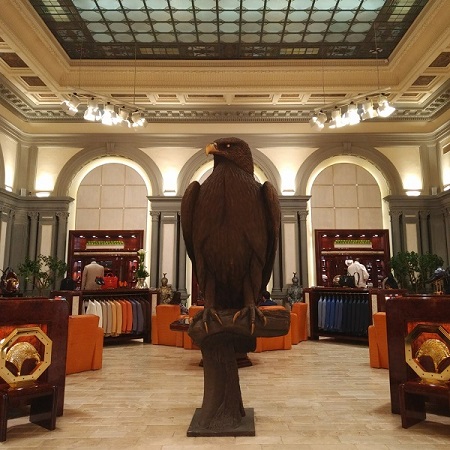 Vendor: CharityBids
Special Instructions
STANDARD TERMS & CONDITIONS
Along with each Experience, you will receive a Certificate that includes information on, and instructions on how to start booking, Your Experience. In consultations with You and following Your reasonable instructions, one of Our travel concierges will finalize the booking. Excluding experiences tied to specific dates, You must book Your Experience a minimum of 60 days before the date You* travel for Your Experience, and within one year of the date You won Your Experience. Further, You* must travel for or otherwise take Your Experience within 18 months of the date You won Your Experience. Your Experience is non-refundable and may not be transferred or resold.
If airfare and/or lodging are/is included with Your Experience, then i) air travel is available to and from any major destination within the 48 contiguous United States or Canada (only where described in inclusions), subject to availability, ii) You* may not be able to use air miles to upgrade Your* coach class flights, iii) You* are not guaranteed that the flights booked for Your Experience will be eligible for accumulation of air miles, and iv) You may modify and/or upgrade flights and/or hotels when using Our concierge to book Your travel, and will be charged separately for any additional associated costs. If airfare and/or lodging are/is NOT included with Your Experience, Our concierge is still available to assist You in booking travel and/or lodging if You request assistance, and You will be charged separately for all associated costs.
Except when the description of Your Experience specifically states otherwise, the following blackout dates apply: the week of each New Year's Day, Thanksgiving, and Christmas. You will be charged separately for any airport departure taxes, fees or fuel surcharges, where applicable. Ground transportations is not included unless specifically stated in the description of Your Experience. By redeeming Your Certificate and taking Your Experience, You agree that the supplier and/or booking agency is not the provider of any components of Your Experience (e.g., flights, lodging, tours, activities, meals, etc.) and will have no responsibility or liability in connection with any of the components of Your Experience or Your Experience as a whole.
DISCLAIMER OF LIABILITY - We act only as agent for You in acquiring or sourcing transportations, hotel accommodations, meals, tours, and other privileges or services from airlines, hotels, and other providers for Your benefit, and on the express condition that We shall not be responsible for any loss, accident, injury, delay, defect, omission or irregularity which may occur or be occasioned, whether by reason of any act, negligence or default of any company or person engaged in or responsible for carrying out any of the arrangements, or otherwise in connection therewith, whether or not such intentional or careless actions or omissions result in any loss, damage, delay or injury to You or Your travel companions or group members. We shall not be responsible for any injuries, damages, or losses caused to the traveler and traveler assumes complete and full responsibility for, and hereby releases Us from any duty of, checking and verifying any and all passport, visa, vaccination, or another entry requirements of each destination, and all safety or security conditions at such destinations, during the length of the proposed travel. By embarking upon Your travel, You voluntarily assume all risks involved in such travel, whether expected or unexpected. You hereby expressly release and discharge Us from all such claims, demands, injuries, damages, actions or causes of action.
Note: * 'You' or 'Your' used in these contexts includes any other traveler taking Your Experience with You whose inclusion was provided in Your Experience's description e.g., airfare or hotel "for (2)', etc. as well as any additional travelers arranged by Us in connection with Your Experience. 'We', 'Us' and 'Our' used in these contexts includes us and our partners & affiliates.
Phone: (888) 909-2437