Unique Experiences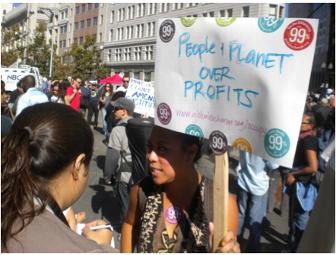 $100 Fund a Need: Occupy Our Elections Campaign
Item Number

135
Estimated Value

100 USD

Buy Now Price

100 USD

Quantity Available

0

Sold

0
Item Description
$100 Kickstart Community Activism for Reclaiming our Democracy. Provide Materials for Actions and Protest and help Global Exchange arm the public with facts as we fight the influence of the big banks and the finance industry in the 2012 elections.
Occupy our Elections Campaign: This election year Global Exchange will mobilize a people's movement that calls on candidates to refuse campaign contributions from the finance industry and other corporate interests.
Your Support Will Enable Global Exchange to:
Investigate corporate campaign contributions and their impact on voting records in the House and Senate. We're going to single out the worst offenders, expose their records, and birddog them on the campaign trail.
Call on people across the nation to build centers of protest around their local banks, to draw the explicit link between banks, campaign spending, and policy decisions in Washington.
Mobilizing people to put pressure on their candidates to say no to the finance industry and other corporate campaign contributions.
Special Instructions
"Bidding" on a Fund-A-Need item is considered a donation directly to benefit a certain program, activity, grant or class. All amounts for "Fund-A-Need" purchases are tax deductible donations to Global Exchange, 501(c)3 organization and my be eligible for a company matching contribution.