Toys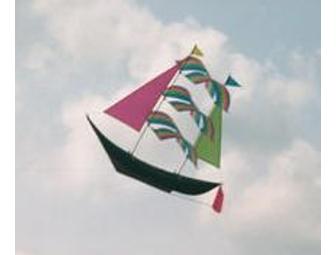 Flying Sky Clipper Kite
Item Number

228
Estimated Value

30 USD

Sold

30 USD to chdulmage
Number of Bids

5 - Bid History
Item Description
Flying Sky Clipper Kite
Manufactured by: Spectra Star
Length: 34 inches
Wind Range: 6-15 mph

From Kitelife Magazine:
Although ship kites are not new, Spectra has now made them affordable. The kite is made of ripstop nylon and fiberglass, plus a plastic rudder. The box contains clear instructions
for assembling the kite. A ten year old could follow them, easily. Not only has Spectra made the kite affordable, but nearly indestructible as well. It is capable of withstanding several crashes, either in the air or being jostled around in your vehicle. Its small size makes it tempting to not take it apart after flight but just toss it in your vehicle. Mine bounced around in the back of my van for weeks without any signs of wear. Another reason why one might be tempted to not take it apart after flight is that the two masts have eyelets on top, making it easy to hang the kite as a room decoration.
Launching the kite is simple if there are two people involved. Due to the kite's size, it needs to be lifted up in the air to catch the wind. Once in the wind, it goes up fine. This presented a difficult task because I seldom have another person with me. This is when my preference for stunt kite flying came in handy. Using the method of "dogstaking" the kite, I was able to hold the kite up and provide tension on the line as well. Thus I was able to self-launch the kite, let it out, then walk up and tie it down to the stake which was used to launch it. Another one of those myths that I referred to in the beginning. I imagine that dogstaking wasn't first invented by stunt kiters, but instead, by single liners trying to self-launch a kite.
This is a kite that settles on the horizon rather than soaring to eagles' height. There is little threat here of reaching the legal kite height of about 500'. Thus one needs to keep an eye on the line when flying around a group of people.
The kite has an enjoyable pull to it. Not too strong, nor so light that you are barely aware that there is anything on your line. I believe this factor plus its appearance, made this kite the preferred kite (of the three reviewed here) by my young helpers on the day I enlisted the assistance and opinion of children.
In conclusion, this kite makes a great choice to either hang in a room or take to the skies. Often, novelty kites just look good. The Sky Clipper excels at both.
___________________________________________________________________