Art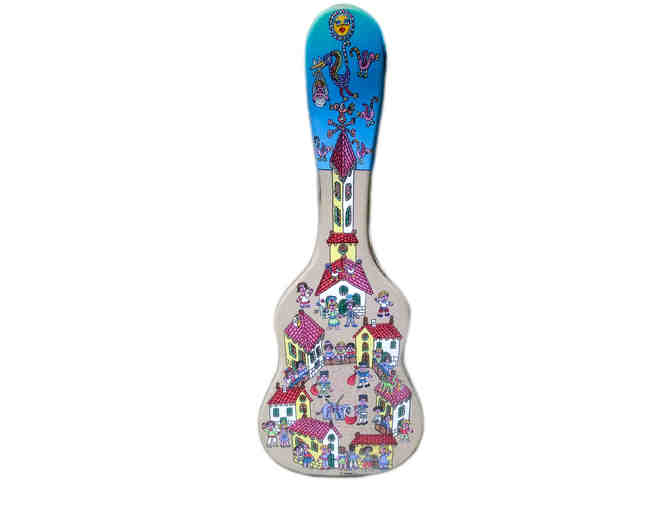 Guitar case painted . perfect for a guitar lover
Item Number

149
Time Left

18d 13h

Online Close

2018-06-12 23:00:00.0
Item Description
Angelo Romano late NYC/Spanish artist
AR 160 45"x17"x1"
Pick up at the gallery FREE . US shipping and handling add $70
Please visit www.ArtforHealingNYC.org to learn more about our mission and our arts programs. We use the sale of our art works to support our visual and performing arts programs and our ongoing 911 peace and courage NYC arts book multi media events.
Please donate . Cash donations are tax deductible.
Angelo Romano Resume
PERMANENT EXHIBITION
Museo de Los Angeles; Spain
Museo de Arte Primitivo del Mundo; Spain
Museo Linares Duquesa de Alba; Spain
Museo de La Iglesia Losana; Spain
Museo del Barrio; New York City
Marseilles Apartments; New York City
The Red Oak Apartments; New York City
St.Joseph of the Holy Family; New York City
Trinity Church New York City
September 11 Museum; New York City
Hostos Community College; New York City
P.S. 116 Manhattan: The Mary Lindley Murray School
P.S. 115 Manhattan: Alexander Humboldt School
NYC Libraries: Columbus Branch
79th St., Yorkville Branch
96th St. Branch
110th St., Aguilar Branch
Convento Santa Teresa; Puerto Rico
Caridad de La Cobre, Casa Parochial de Miami
Brooklyn-Queens Conservatory of Music; Brooklyn,NY
Adams Spanish Immersion; St.Paul, MN
Campaign for a Better Greensboro (CFBG); Greensboro,NC
Escuela Sierra Alta; Yauco, Puerto Rico
The International Center New York; New York City
John and Caroll Kowal House; New York City
Fania Gersham House; New York City
West 74th Street Home; New York City
Casa Do Brasil-USA; New York City
Art for Healing, Inc.; New York City
Christopher Street Coffee House St. John's Church; New York City
Annual Vigil for International Peace and Ecology; Central Park, NYC
West Park Church; New York City
Sala de Exposiciones Asuncion; Albacete, Spain
Archivo Historico; Toledo, Spain
St.Peter Catholic Church; NYC
Gallery Escudero Permanent Exhibit; Tilson, Arizona
Galeria Mixta; New York, NY
Union 37; New York, NY
Hunter College; New York, NY
Mount Sinai Hospital; New York, NY
Boricua College; New York, NY
JASA; New York, NY
Church of Ascension; New York, NY
M.R. Donald, JASA
Valley Lodge Transitional Shelter; New York City
Ben Michalski Residence; New York City
Iglesia Sacramento; Burlington
Centro Cultural: Casa Azul; Greensboro
William F. Ryan Community Health Center; New York City
Ryan/Chelsea-Clinton Community Health Center; New York City
The Ryan Women and Children's Center; New York City
MURALS
Cabanha Carioca; New York City
Centro Latino Americano; New York City
Losana Soria; Spain
Canto America; New York City
Children's Crusade; Philadelphia
Casa Boricua; Bronx, NY
Alianza Civica Tropical; New York City
Anexo Gallery at Museo del Barrio; New York City
MURALS ON BOATS
Ana Nery; Brazil
Rosa de la Fonseca; Brazil
Princesa Isabel; Brazil
Princesa Leopoldina; Brazil
La Boehm; Miami
Children of the Whole World; Philadelphia