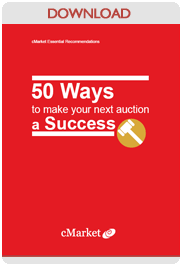 Join the network that has raised over $75 million for schools and organizations nationwide. Sign up for BiddingForGood (cMarket) and benefit from more items, more bids and even more ways to raise money for your cause.
The Trusted Leader in Online Fundraising & Internet Auctions
BiddingForGood (cMarket) is the leading online auction fundraising services for nonprofits
Your Peers Are Running Internet Auctions with BiddingForGood (cMarket)
BiddingForGood (cMarket) has run more than 8,000 online auctions for groups of all sizes and in every sector of the nonprofit community
Take Advantage of a Complete Network of Services
Our network of fundraising resources helps you increase revenue, opens your fundraising auction event up to a broader audience and expands your reach
Enhance your live and silent auctions with a BiddingForGood (cMarket) internet auction. Maximize your earnings potential and reduce the workload at your event.
>> Download "50 Ways to Make Your Next Internet Auction a Success" Now to Learn How!
Required information is indicated by an asterisk (*)