Auction Ends: Apr 10, 2014 04:00 PM CDT
The University of Oklahoma Campus Campaign
TIME HAS RUN OUT...Our Auction is CLOSED.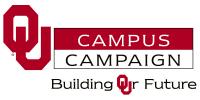 The auction is now CLOSED. Thank you to everyone who placed a bid, and congratulations to all those who won their items!
All proceeds made from our auction will be used to help support OU Student Scholarships!
Not Open to the General Public
While it IS tempting to bid, our auction is open to The University of Oklahoma faculty, staff, and retiree members only. It's our way of saying "THANK YOU" for the great job you do...everyday!
We will not be able to honor your bid if you are not a OU retiree or current employee.
Boomer Sooner!
We are now closed!