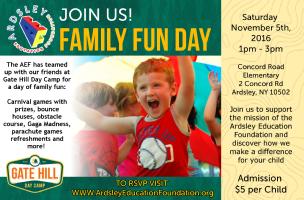 AEF and Gate Hill Day Camp Family Fun Day!
The Ardsley Education Foundation and our 2016 Gala Premier Sponsor, Gate Hill Day Camp, invite you and your preschool & elementary school children to join us for an afternoon of family fun.
Carnival games with prizes, bounce houses, obstacle course, Gaga Madness, parachute games, and more!
Cost is $5/child (under 1 year no charge)
Refreshments available for purchase.
Thank you to Gate Hill Day Camp for offering such a wonderful experience for our children!
Thank you all for supporting the AEF, and the education of our children!
(email us at aef@ardsleyschools.org if you are not able to register online, you can pay us at the door!)
Live Event Details
Sat Nov 5, 2016
1PM - 3PM EDT
Concord Road School
Concord Road School, Ardsley, NY
Add to My Calendar
Get Directions
Concord Road School
Saturday, November 5
1-3PM
Under 1 year free
Save the Date: AEF Spring Fundraiser - Saturday, March 25, 2017
GET INVOLVED. DONATE. JOIN THE FUN!
Contact us: aef@ardsleyschools.org
www.ardsleyeducationfoundation.org
*contact information confidential to AEF and Gate Hill Day Camp