Donate Cash
Auction Links
Top Bidders
Chi_town

$967

gs611df18

$841

pbd5c00d9

$700

jv574f14f

$637

WDW2

$597

Hometoy

$537

Bidding4mm

$524

kh8cf9537

$500

lz25411e2

$464

acordell

$460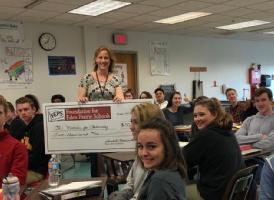 Its Auction time for the Foundation for Eden Prairie Schools!! Beyond the Diploma Speaker Series Online auction!
Auction runs March 15 -23, 2017
FOUNDATION FOR EDEN PRAIRIE SCHOOLS (FEPS) JUST AWARDED $33,000 IN GRANTS
Thanks to our generous donors and supporters, the Foundation awarded 6 grants which will benefit Thousands of EP Students!
Google Virtual Reality Kits
Central Middle School received a $10,000 grant to purchase Google Expedition virtual reality kits. Students will be able to take "virtual field trips" all around the world! What a fantastic way to learn!
STEM Materials
Community Education received $1,200 to purchase science, technology, engineering and math (STEM) materials for students who are struggling academically. Making a difference for our kids!
Sphero Robotic Balls
Eden Lake Elementary received $1,100 to purchase a set of Spheros, baseball-sized robotic spheres. Students can use coding to make the balls perform various tasks. A perfect way to learn 21st Century skills, critical thinking and collaboration!
3D Models and Lab Equipment
EP High School received a $5,000 grant to purchase 3D models and lab equipment to teach microscopic concepts in chemistry. Bringing science to life!
Tools for Creative Sharing of Learning
Central Middle School received almost $1,400 to purchase tools so students can create videos, visuals, and digital games to share what they've learned. What a great way to apply the 4C's - creativity, communication, collaboration, and critical thinking!
Tower Gardens
Eden Lake received $3,750 to purchase an aeroponic tower garden, to teach students about plants and how they grow. Students will plant, harvest and eat the produce they grow throughout the year! Now each elementary school has at least one tower garden!
Live Event Details
Wed Mar 22, 2017
7PM - 10PM CDT
Eden Prairie High School Auditorium
17185 Valley View Road Eden Prairie, MN 55346
Add to My Calendar
Get Directions
Betsy McCann, Eden Prairie High School Class of 1999 is the University of Minnesota Marching Band Director. She will share stories about her journey to becoming the director and behind the scenes with the U of M Marching Band. Eden Prairie High School graduates who are a currently members of the U of M Marching Band will also be on hand to perform.
Join us at the VIP reception immediately following the event to meet Betsy. Tickets to the VIP reception include admission to the speaker event.
The speaker event will be from 7:00pm-8:00pm
The VIP reception will be from 8:30pm-10:00pm

Ticket prices:
$25 adult admission
$65 VIP admission (includes admission to the event)
$15 student admission

Ticket prices are 100% tax deductible.