Donate Cash
Auction Links
Top Bidders
cc012cecd

$15,450

ch547eb15

$1,578

dlac46cd3

$1,361

dwffd9c1e

$746

jt9dc9a32

$680

hb836b24a

$625

gdb6a2bd5

$600

pmbb6acf8

$525

wr818

$500

lsc0eef2d

$500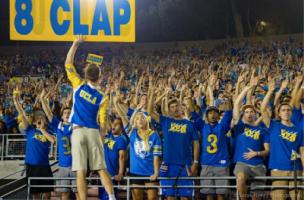 The Online Silent Auction is NOW Open!!
Starting on February 16, 2017, the UCLA Spirit Squad will be auctioning off a number of fun and unique items to bid on to raise money for our organization - and the more items we have the more money we can raise, so we're asking for your help.
The auction will run from February 16, 2017 to February 26, 2017, with the live event taking place on February 26, 2017 until 6:15 p.m. PST.
Proceeds go to the UCLA Spirit Squad in order to support scholarships for the dedicated student-athletes and programmatic costs. The UCLA Spirit Squad plays an integral role in many areas on the UCLA campus and within the Los Angeles community. The Squad brings enthusiasm and Bruin Pride to every sporting and community event, but we cannot do this without the support of our fans. The students volunteer their time and do not receive scholarships. In order to bring the elite representation and quality performances that are expected of UCLA, the program requires the support of donors to subsidize travel, our Coaching Staff and operational expenses. Please support our efforts by donating and bidding!
Auction items range from exotic vacation getaways, to classy wine tastings, to UCLA paraphernalia, to donated items guaranteed to delight and surprise!
So! Tell your friends, family, community. Let the bidding begin!
Join the live event! Click here to register: Register Today!
Can't make the event in person? We are bringing the event to you!
Don't have something you're looking for? Show your support by clicking on the "Donate Now" button to contribute to us.

Give a little and get a lot in return.
Whether you have 1 item or 100 to contribute, your participation is an invaluable part of our fundraising efforts. By donating an item or service directly online, you'll be helping to raise money for our organization, and you'll receive a mention on our site: spirit.ucla.edu that can link back to your own web page.
Make Your Bid to Support the UCLA Spirit Squad
Now is your chance to not only get all the great items you want, but to do it knowing you are helping support the UCLA Spirit Squad and our mission.