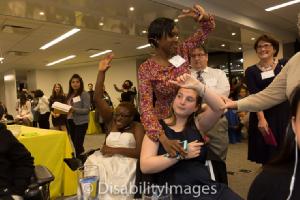 You're invited to Party for PYD!
Starting May 8, 2017, Partners for Youth with Disabilities will begin the Party for PYD Auction leading up to our live benefit event on May 18 at EY, 200 Clarendon Street in Boston. We'll auction off a number of unique items to raise money for PYD's award-winning mentoring and inclusion programs that illuminate and nurture the power and potential of all youth with disabilities. We invite you to bid online, then join us May 18 to be a part of an amazing celebration.
What's more is that we're raffling off two Red Sox vs. Yankees tickets. Saturday, July 15, 4:05pm. Field Box 21, behind the Red Sox dugout. Awesome seats for a beautiful summer day.
To purchase tickets for the Party for PYD & raffle, click Order Tickets below.
Live Event Details
Thu May 18, 2017
6PM - 9PM EDT
EY
23rd Floor, 200 Clarendon Street, Boston, MA 02116
Add to My Calendar
Get Directions
Celebrating the important work of mentoring youth with disabilities and the extraordinary impact of our honorees, mentors, mentees, and the community.
We're honoring Bill Schawbel, Melissa M. MacDonnell & Liberty Mutual Insurance and Muhammad & Lonnie Ali and the Muhammad Ali Center.
Karen Holmes Ward of WCVB Channel 5 Boston is Master of Ceremonies!
Honorary Co-Chairs:
The Honorable Elizabeth Warren
The Honorable Edward J. Markey
Attorney General Maura Healey
Mayor Martin J. Walsh
Commissioner Kristen McCosh
This cocktail recepton will be especially musical with live jazz from the Trumpet King Wayne Pearcy and guitarist Noé Socha. And performances by PYD youth performers.
Enjoy silent and live auctions, hors d'oeuvres, refreshments and more. Proceeds from the event will benefit the work of PYD and the mentoring and inclusion programs for youth with disabilities. PYD is a 501 (c)(3) non-profit organization. Donations are tax-deductible less any goods or services received in accordance with IRS regulations.
Dress code: Business Attire.
We'd like to thank our generous sponsors and supporters:
Stephen & Donna Mastrocola
Margaret & Andrew Covell
Holly & David Bruce
New England Patriots Charitable Foundation
The Southard Family
Neil Leonard & Henry Goodrow
Greg Torres & Betsy Pattullo
John & Tracy Atkinson
New England Revolution
Massachusetts General Hospital
Mitsubishi Electric Research Laboratories
Spaulding Rehabilitation Network
Regina Snowden
Betsy Dangel & Gary J. Mitchell
Michael & Linda Frieze
Lisa & Glenn Muir
Official Media Sponsor: WCVB Channel 5
In-Kind Sponsors: Disability Images
Morgan Tripi and Image Unlimited Communications | iucboston.com
Become a Sponsor
Place your company's logo on our site that links back to your own web page and you could develop new business. We can track how often your logo is viewed and clicked to see just how many people are accessing your site.