Donate Cash
Auction Links
Top Bidders
jk60d2390

$1,079

ssbd29dd4

$1,004

kk448cf0f

$782

ch6e49b0f

$675

am028dbd4

$637

paulme

$600

il034dd01

$582

vwf2b77d7

$528

ip307a533

$487

npc1178f6

$472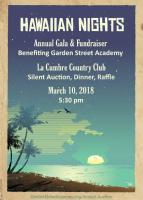 Garden Street Academy's Hawaiian Nights
Garden Street Academy will host its annual Fundraising Auction on Saturday, March 10th at 5:30pm at La Cumbre Country Club. Join us for dinner, cocktails, silent and live auctions.
The Garden Street Academy online auctions starts February 21st and ends March 10th. You can register on this page to participate in the auction, purchase tickets to our Gala event at La Cumbre Country Club, enter the raffle, donate items or sponsor the event. There will be over 100 items to bid on to raise money for our school - and the more items we have the more money we can raise, so we're asking for your help! All proceeds from the event support tuition assistance. All proceeds from the event support our Scholarship Program and maintaining our high quality school programs.
We sincerely hope that we can count on your partnership for our annual Gala & Auction "Hawaiian Nights" to be held on March 10, 2018 in the beautiful surroundings of La Cumbre Country Club. Our goal is to provide an entertaining and exciting event that supports students through raising funds for our Scholarship Program. Event sponsorships (financial or in-kind) are a wonderful way to support Garden Street Academy and gain exposure for your business. Please contact Angela Jevons, General Manager by email ajevons@gardenstreetacademy.org or phone (805) 680-1536 to learn more about the benefits of being an event sponsor.
Live Event Details
Sat Mar 10, 2018
5:30 PM - 10:30 PM PST
La Cumbre Country Club
4015 Via Laguna, Santa Barbara, CA 93110
Add to My Calendar
Get Directions
La Cumbre Country Club
4015 Via Laguna, Santa Barbara, CA 93110
Saturday, March 10, 2018 5:30PM - 10:30PM
Thank you to our generous sponsors