Auction Links
Top Bidders
jwd4ee9fb

$195

so3aebeb7

$136

mimike

$126

dakota91

$63

mhf16973a

$60

koponens

$56

kurtosis1214

$44

ae6838ea7

$26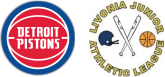 The Livonia Junior Athletic League Online Auction is OPEN!
The Seewald Memorail Auction, feturing Detroit Piston Game tickets is now open. The Auction will run thru the NBA regualr season with proceeds going to Livonia Junior Athletic League in order to support sports scholorships for youtrh. Please tell your friends, family & community and let the bidding begin!
Thank you AlphaUSA!
AlphaUSA's donation, is in honor of friend, and former co-worker Paul Seewald. Toghether their venture and commitment to the Business community and youth sports has been a key to success in the Livonia Community. We thank them for their partnership and passion to the LJAL.