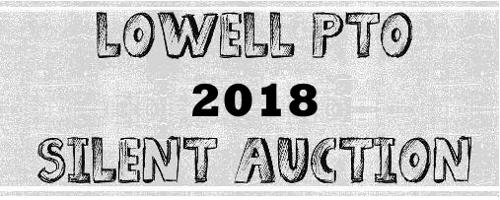 James Russell Lowell School PTO - Auction is LIVE!
The online bidding has begun!
The James Russell Lowell School PTO is auctioning off a number of fun and unique items to raise money for our organization. Last year we raised $20,000, money we've been using to fund numerous teacher requests throughout this academic year. If you'd like to see those requests please visit lowellpto.org.
If you're not interested in any of the auction items but would still like to show your support, you can donate money to our event. At the top right of this page there is a section to choose how much you'd like to donate.
Thank you in advance for supporting our school!
Lowell PTO
Important Disclosures:
1) This is a fundraising event and as such, there are no refunds.
2) All winning bidders will be charged a transaction fee of 5% of their bid to cover a portion of the administrative fees associated with the auction. Our fees include a 9% administration fee from BiddingforGood, credit card processing fees, and mailing costs. We thank you for your understanding and for your support of our school.
3) Winning bidders may pick up their items at the Watertown Free Public Library (Watertown, MA) on Sunday, March 11, 2018 from 1:30 to 3pm. With the exception of large items, all winnings that are not picked up at this time will be mailed or emailed during the week of March 12th.
4) Tangible items that must be picked up in person on Sunday March 11th are identified in the item details on the website. If the item is not picked up and arrangements are not made, the item may be awarded to the second highest bidder during the week of March 12th.
5) Credit card payments are accepted through Bidding For Good. If you would like to pay by check or cash, you must pick up your item(s) in person at the designated pickup date and time stated above.
Special Thanks To Our Sponsors
Check out our sponsors, LAMACCHIA REALTY, Bill's Auto Service, & Don's Auto Body & Marine , below!
Featured Auction Items Below! Check out our full list of goods and services to see the hundreds of items up for bid.