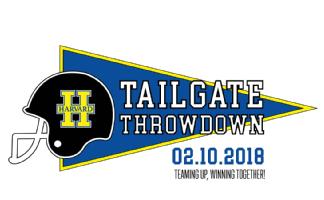 Which team will rule the 2018 Tailgate Throwdown
This year's fundraiser promises to a fun filled night with a tailgate theme. Come support your favorite team and Harvard Elementary School on February 10, 2018 at the SPJST Lodge. We want to continue to provide the children of Harvard Elementary with all the benefits including field trips, in school assemblies and teacher support. Last year's success allowed us to provide tools, programs and enhanced instruction for the 2017–2018 academic school year including updating the playground equipment and expanding the gardening programs. This coming year we are hoping to install an outdoor learning area to enhance our student's classroom experiences. This year we have set our fundraising target to an ambitious $120,000 and with your support, and the 400+ parents and educators expected to be in attendance, we are hoping to set a new record!
Live Event Details
Sat Feb 10, 2018
7PM - 11PM CST
SPJST Lodge
1435 Beall St , Houston, TX 77008
Add to My Calendar
Get Directions
Astros, Aggies, Longhorns or Texans, which team is yours??
We are having our 2018 fundraiser on Febuary 10,2018 at the SJPST Lodge 7-11pm. This years theme is Tailgate Throwdown. We will have food, drinks, live music and both a live and silent auction. Tickets go on sale January 10th and on line bidding begins Febuary 1st.
Become a Sponsor
The Harvard Elementary PTA is delighted to announce our 2018 fundraiser: Team Harvard Tailgate Throw-down. We are teaming up and showing our colors in a good old-fashioned tailgate throw-down complete with great food, tailgate games and contests, a live band and auction. We hope you will save the date and consider being a school sponsor.
We offer a variety of ways you can contribute, gain recognition, and help build Harvard's history of educational excellence. Underwriting opportunities are listed below. For custom sponsorship opportunities or questions, contact Cara Drake at underwriting@harvardelementarypta.org or 713-249-4082.
Thank you for considering support of the Harvard Elementary students and community.