Donate Cash
Auction Links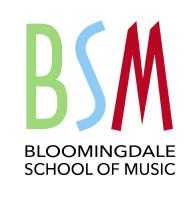 Make Your Bid to Support Music Scholarships
The Bloomingdale School of Music is a community music school servicing Manhattan's Upper West Side since 1964.
Each spring we hold our annual benefit for scholarships and financial aid, "Notes from 108th Street".
We invite you to bid on items in advance of our live event, and help us continue our mission:

To provide open access to high-quality music education to anyone who seeks it, regardless of their economic status.
This year we honor Alexander Bernstein during his father Leonard's Centennial Celebration: Bernstein at 100. We also celebrate the work of Artful Learning, an arts integration model founded by Leonard Bernstein that empowers educators to use the arts and the artistic process to awaken and sustain the love of learning for all students.
All of the Bernstein family's work regarding accessible music education, which was so clearly evident in Leonard's Young People's Concerts with the Philharmonic AND the development of Artful learning, resonates and connects strongly with Bloomingdale School of Music's founding ethos and mission.
Now is your chance to not only get all the great items you want, but to do it knowing you are helping support our organization!
Live Event Details
Thu Apr 19, 2018
6PM - 9PM EDT
Broadway Presbyterian Church
612 W. 114th St. & Bway, New York City
Add to My Calendar
Get Directions
Notes from 108th Street coincides with the worldwide celebration of Leonard Bernstein's 100th birthday, Bernstein at 100, and this year's event will feature the music of this legendary composer, conductor, educator, cultural ambassador, and humanitarian performed by BSM students and faculty.
As we honor Alexander Bernstein and the work of Artful Learning, we are pleased to acknowledge Alexander's dedicated stewardship of this important program and to applaud all his efforts in support of music education.
A highlight of Notes from 108th Street will be excerpts of "Leonard Bernstein: His World through His Music," Alexander's poignant sharing of personal remembrances of his father along with photos of individuals immortalized by Leonard's "Anniversaries for Piano."
These compositions served as musical postcards/gifts for important people in his life including some of his musical mentors and family members: Aaron Copland, Serge Koussevitsky, Stephen Sondheim, and his wife, Felicia Montealegre.
The evening will be hosted by Ken Fischer, President Emeritus of the University Musical Society, a witty raconteur who presented Leonard Bernstein in concert and is a strong supporter of BSM's commitment to accessible music education for all.
With Alexander Bernstein as an incredible honoree, and a unique chance to feature Leonard Bernstein's work during an historic centennial year, this is an event not to be missed! Tickets are available at www.bsmny.org/notesfrom108
Bloomingdale School of Music
Founded in 1964, Bloomingdale School of Music (BSM) provides open access to anyone seeking high quality music education. Over the 52 years, BSM has served more than 60,000 children and adults through group classes, private instruction, and performance opportunities in classical, jazz, and rock music. Located on Manhattan's Upper West Side, each week over 600 students of all ages participate in a wide range of music-making, including early childhood classes, free community concerts, and internet-based music programs. More than 20% of the Bloomingdale student body receives financial aid scholarships annually. This means more than 10% of BSM's annual budget goes directly towards student scholarship - an industry high. BSM alumni have gone on to careers as music teachers, performers, and life-long music lovers.