Donate Cash
Auction Links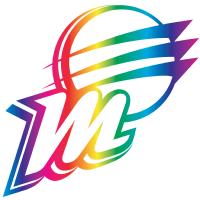 2018 Phoenix Mercury Pride Week Auction
Starting on June 11, 2018 and running until the end of halftime on June 16, 2018, the Phoenix Mercury will be auctioning off five exclusive Pride Night canvases featuring Diana Taurasi, Brittney Griner, DeWanna Bonner, Briann January, and Yvonne Turner proudly displaying the pride flag. Do not miss your chance to own one of these exclusive prints autographed by the featured player.

All proceeds from this auction benefit Adam Rippon's GLAAD Campus Ambassadors Program.


Live Event Details
Phoenix Mercury vs. Connecticut Sun Pride Night Game
Buy tickets online at http://mercury.wnba.com/tickets/ then come and support your Phoenix Mercury on Pride Night as they take on the Connecticut Sun. Olympic figure skater Adam Rippon will be in attendance with other great Pride celebrations throughout the game
Bid on Your Favorite Player's Picture or Donate Directly Today!