Donate Cash
Auction Links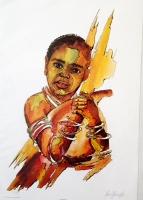 OTYO! A Sigh of Relief is running an online auction fundraiser to benefit women, adolescents, and orphans in rural Uganda. You can make a difference now for the impoverished youth and women in Rukungiri District, Uganda.
Starting on May 26, 2018, Otyo A Sigh of Relief will be auctioning off a number of unique African art items to bid on to raise money for our organization and our projects.
Our Mission:
The mission of OTYO! (A Sigh of Relief) is to improve the quality of life and health of women, adolescents and orphans of rural Uganda, by providing financial and technical support to community based organization (CBOs) working with these populations. The CBOs supported by OTYO! will improve efficiency and effectiveness of service provision in areas of:
Food Security
Health Care Access
Health Education
Community Empowerment
To provide financial support, OTYO! will apply for grants as well as raise funds in the U.S., through fundraisers and donations, and distribute these funds as short term (project) and long term (program) grants to qualified CBOs. OTYO! has developed requests for proposals on the basis of sound research in public health promotions and in field research in Uganda under the direction of Jolly Bugari and with the support and assistance of the CBOs. Future plans for OTYO! include the development and management of two programs that will provide expert human resource support to the CBOs funded by OTYO!; and provide opportunities for students from U.S. universities for experiential service-learning through internships and volunteering. OTYO! (A Sigh of Relief) is a registered Non Governmental Organization (NGO) in Uganda and is a tax exempt 501(c) (3) Not for Profit in the United States.
Our Vision:

OTYO! (A Sigh of Relief) will be a resource for community-based organizations seeking to make positive changes in their environment. These CBOs will be empowered and self-sufficient and will help Ugandans realize their full potential.
Core Values:
Cultural humility; we will support all people regardless of race, color, religion, sexual orientation, tribe or any other differing characteristic.
Integrity; we will be open and honest in our mission, strategies, goals and objectives.
Accountability; we are accountable to our customers, our partners, our supporters, and our Board.
Empowerment; we will seek to provide community-based organizations with resources to become efficient, effective, and self-sufficient in service provision in community-building projects through public health theories.
Innovation; we support community based organizations to think of new ways of problem-solving.
Please visit our website to view the details of our current projects, our history, and other information at www.otyo.org
We are currently fundraising for two projects in the Rukungiri District, rural Uganda: a Community Centre with a library and health programs, and a Sanitary Pad program that will manufacture affordable, reusable sanitary pads within the centre, and to be made available to school age girls in rural Uganda.
Our goal is to raise $50,000 this auction. Donations will help pay for sewing machines, materials and labor for the sanitary pads, and construction of the first building of the Community Centre that will house the pad project.