Donate Cash
Auction Links
Top Referrers
David Burch

38

American Football Association

19

Janet Gagne

19

David Bowman

1
Refer Your Friends
Top Bidders
gdb6a2bd5

$7,800

bb4591d6d

$7,400

szanna

$6,100

bc7861a3a

$4,500

az_seascape

$4,200

bl5ba3729

$4,000

Plum2290

$4,000

esfef1028

$3,300

cm8800bc9

$3,250

kbrune5443

$3,100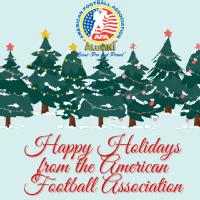 Happy New Year !
All Bidders (win/lose) & Referrers Receive $600 Travel Certificate
The American Football Association will be auctioning off a number of fun and unique items to bid on to raise money for our organization - and the more items we have the more money we can raise, so we're asking for your help.

Show your support by clicking on the "Donate" button to contribute.
FREE Gift
https://www.rewardsandincentives.com/?bcode=ad227f107a4e29b0e7b3dfe06b91bde1
Happy New Year - New Payment Feature
Please note a new feature implementation for payment of auction purchases. Afterpay is a buy now, pay later (BNPL) payment option that allows customers to pay for their purchases in four interest-free installments.
Featured Item Packages - Happy New Year