Donate Cash
Auction Links
Top Bidders
jsc3b2e60

$225

jpa580251

$200

ome9333d2

$100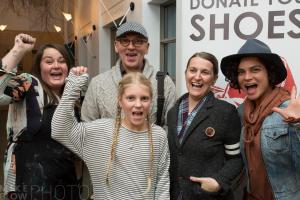 The My Canvas Has Laces Online Auction is Now Open!
My Canvas Has Laces is now open! The auction will run from October 17, 2018 at noon to October 20th at the live event. Proceeds go to Shoe Bank Canada in order to support our efforts to put shoes on people in need.
The main auction features the work of artists from across Canada who have hand-painted a pair of Converse Chuck Taylors.
The silent auction items feature gift certificates and other fun donated items that are guaranteed to delight and surprise. So, tell your friends, family, community. Let the bidding begin!
Live Event Details
Shoe Bank Canada presents to you the second annual "My Canvas Has Laces" art gala fundraiser sponsored by Innov8 Digital Solutions. This one-of-a-kind event takes place at the Kelowna Innovation Centre :: the hub of innovation, technology + creativity in Kelowna, BC. This creative and inspiring evening will feature the works of artists from across Canada who have hand-painted a pair of white Converse kicks as well as a silent auction. You will hear stories from one of our community partners, Shannon Christensen from Mamas for Mamas, on the impact that our shoe donations have made on the many families that access their services. The shoes will be available for purchase via an online auction starting October 17th at noon and closing Sunday, October 21st at 10pm. We will broadcast online auction activity throughout the event and hold a live auction for a few special pairs of shoes that have been created by the SunFM radio host team! Register yourself as a bidder online at www.biddingforgood.com/shoebank today! You will also enjoy: :: Music from the talented Adam Meachem:: Edibles by Start Fresh Kitchen:: Libations by 50th Parallel Winery :: Botanical blends by Okanagan Lavender Farm Come and enjoy the creative energy and connect with people passionate about improving the lives of people through a collision of art + purpose. Dress to impress!
Make Your Bid to Support Shoe Bank Canada today!
Now is your chance to not only get a one-of-a-kind pair of custom Converse shoes, but to do it knowing you are helping support our organization and mission.
Shoe Bank Canada collects shoes from footwear manufacturers and the homes of Canadians like you and me and distributes them to people in need through the help of social agencies across the country.
Silent Auction Items for Sale