Auction Links
Top Bidders
Cristofor

$341

goldfish1963

$246

ResQThem

$240

loripr1

$239

FORSECRETS

$198

aw3d51212

$149

ashleyzara

$139

clewtex

$117

auntbee

$51

blamonica

$41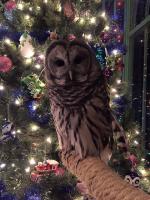 The Holiday Auction is closing soon!

Bidding ends on Tuesday, December 11th at 10:00 pm, EST.
Time is running out to get some great deals on your holiday gifts AND do something good for animals!
If you don't see anything to bid on this time, you can help the animals by sharing with your friends, family, and co-workers on Facebook, Twitter, or Instagram!
Broadbent Wildlife Sanctuary is a 501(c)3 nonprofit organization in Kentucky whose mission is to rescue sick, injured and orphaned wildlife throughout the state. Our staff works 365 days a year to provide care to wildlife in need, with the goal of rehabilitation and release back into their native environment. Our staff provides medical treatment as well as loving supportive care to thousands of animals each year. Hundreds of wildlife babies are raised in our nursery and released every summer. Broadbent also serves as a safe haven and a lifelong home for abandoned or abused exotic birds and other former pets. Our Educational Ambassadors and trainer teach children and adults about wildlife and to respect all animals.
For more information on Broadbent Wildlife Sanctuary, visit www.BroadbentWildlife.org, and don't forget to check us out on FACEBOOK!