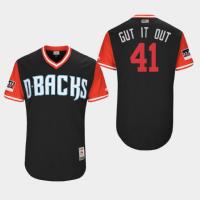 The Gut It Out Jersey Auction is Open!
Bid now for a chance to win a Players Weekend Gut It Out Jersey signed by Jake Diekman, professional baseball player and founder of the Gut It Out Foundation. The auction will run from Giving Tuesday through IBD Awareness Week, closing December 7, 2018.
Jake spent the 2018 baseball season with the Texas Rangers and Arizona Diamondbacks and is currently a free agent.
Make a Donation to the Gut It Out Foundation
About The Gut It Out Foundation:
The Gut It Out Foundation aims to connect patients and caregivers through education and inspiration in order to strengthen relationships and resources within
the IBD community.
Professional baseball player Jake Diekman and his wife, Amanda, are the founders of the Gut It Out Foundation. Since 2015, Jake and Amanda have shared their journey – both as a patient and caretaker. They have welcomed endless opportunities to interact with the IBD community, online and in-person. They have found it mutually rewarding to interact with others in the community to become a source for information, empathy and reliability.
Jake and Amanda's goal is to bring people together, connecting patients and families, to raise a community where people aren't afraid to talk about the good and the bad of IBD.
For more information, visit www.gutitoutfoundation.org.