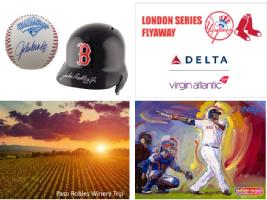 Big Papi's Marathon Auction NOW OPEN! Bid through April 18th @ 6pm ET.
The former designated hitter might not be hitting grand slams over the Green Monster this week, but David Ortiz continues to be a force off the field with his namesake nonprofit, the David Ortiz Children's Fund (DOCF), which has launched an online charity auction to support its 2019 marathon team's fundraising efforts. Featuring priceless, once-in-a-lifetime getaways donated by Delta Air Lines and more, the curated online auction will be available to bidders internationally now through Thursday, April 18 (6pm ET). Proceeds from the auction will benefit the DOCF which provides lifesaving heart surgeries for children in New England and the Dominican Republic.
Boston's leading global carrier and the DOCF's official airline partner Delta Air Lines, along with Virgin Atlantic, is focused on supporting organizations dedicated to improving the health and wellness of people around the world and the DOCF is yet another example. They have joined the three-time World Series Champion's efforts in raising funds for this international cause by donating the following big ticket auction items:
MLB LONDON SERIES BROUGHT TO YOU BY DELTA AIR LINES & VIRGIN ATLANTIC & DELTA VACATIONS
Two pairs of tickets to baseball's most epic rivalry, Red Sox vs. Yankees, at the sold-out MLB London Series on June 29 and June 30, including Upper Class airfare on Virgin Atlantic for two plus a Delta Vacations certificate for hotel accommodations.
GETAWAY TO WINE COUNTRY BROUGHT TO YOU BY DELTA AIR LINES
A luxury getaway to California's wine country for four people, including Domestic First Class or Delta One® service on Delta Air Lines to Los Angeles or San Francisco, limousine service to and from San Luis Obispo airport, a three-night stay at the idyllic Paso Robles Inn with breakfast included, and a two-day private limousine tour of Paso Robles Wine Country, including a tour of the wineries where Big Papi's Arias Wine is made.
Check out just a few of our amazing featured items!