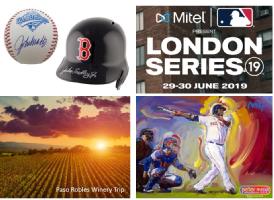 David Ortiz Childrens Fund is getting ready to run an online auction fundraiser.
Starting on April 8, 2019, David Ortiz Childrens Fund will be auctioning off a number of fun and unique items to bid on to raise money for our organization - everything from unique sports memorabilia (a signed bat from Jackie Bradley Jr! A signed ball from hall-of-famer John Smoltz!) to great trips (a Paso Robles wine adventure - including air and hotel!) to priceless experiences (N'Sync's Chris Kirkpatrick will record YOUR voicemail!).
Be sure to join us on April 8th at 8am when the auction opens. Sign up to learn more at www.davidortizchildrensfund.org.