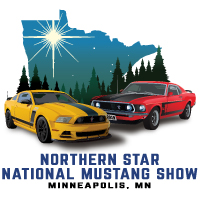 Northern Star National Mustang Show is proud to present our online auction fundraiser benefiting MAKE-A-WISH MINNESOTA. This auction is part of the North Star national Mustang Show that is being held on June 28th - June 30th in Bloomington, MN. It is a nationally judged event that will have a lot of beautiful Mustangs present. There will also be a variety of vendors and activities for everyone to enjoy.
Starting on June 10, 2019, The North Star National Mustang Show, Minneapolis, MN will be auctioning off a number of fun and unique items to bid on to raise money for Make a Wish.

The Auction will run from 8:00am, June 10th, 2019 through 3:00pm, June 29th, 2019.
Live Event Details
Fri Jun 28, 2019 8AM -
Sun Jun 30, 2019 3PM CDT
DoubleTree by Hilton
DoubleTree By Hilton 7800 Normandale Blvd, Minneapolis, MN 55439 (952) 835-7800
Add to My Calendar
Get Directions
The National Mustang show will be held June 28th - June 30th, 2019.
The DoubleTree by Hilton located in Bloomington Minnesota is home to our host hotel which will also serve as the show site too. The local area boasts a wide variety of venues and activities for all members of the family. Well over one hundred restaurants are located in Bloomington and the show site is located only six miles from world class shopping at the Mall Of America. Downtown Minneapolis and St. Paul, Target Field, Mystic Lake Casino, Canterbury Park Horse Track, numerous theatres and museums, Water Park of America, Valleyfair Amusement Park as well as Paisley Park are within 20 miles of the DoubleTree Hotel.
For more information please follow the link below:
https://www.northernstarnationalmustangshow.com/