Donate Cash
Auction Links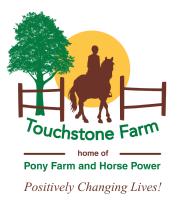 Touchstone Farm "Winner's Circle" Online Auction!
PLEASE JOIN US ONLINE TO RAISE MONEY FOR THE FARM! May 1st - May 15th
All Auction Proceeds Will Benefit TOUCHSTONE FARM so that we can continue to help all those who enter our farm gates! How your money helps...
- Help with the cost of tack supplies, helmets and saddles!
- Help with the replacement of our tractor to haul out to the pastures each day!
- Help with our veterinary costs to care for our horses and ponies all year long!
- Help to fund our programs for veterans, children, and adults whose healing journey begins at Touchstone Farm!
Our auction includes a number of fun and unique items to bid on in order to raise money for our beloved horses and ponies!

Show your support by clicking on the "Donate Items" button to contribute to our cause.

Our Mission... is to provide transformative opportunities that positively changes lives to all who enter our farm gates!
Touchstone Farm is a not-for-profit 501(c)(3) in good standing with the IRS and donations/sponsorships to teh extend allowed by law. Tax ID: 02-0436529
2 Celtics vs. Bucks Playoff Tickets Game 4 May 6, 2019 7:00pm at the TD Center in Boston, MA
Bidding on the Celtics tickets will stop promptly on Saturday night May 4th, at 9:00pm to allow for winning bidder to make arrangements for travel and the game.
Center Court - Section 316 Row 2
THESE ARE E-TICKETS AND WILL BE EMAILED TO WINNING BIDDER!
DON'T MISS OUT... BID OFTEN & KEEP CHECKING BACK!