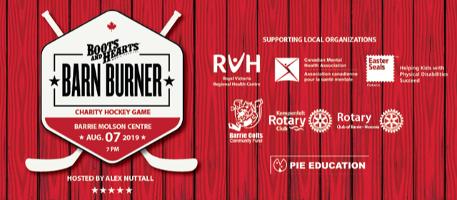 The Boots and Hearts Barn Burner is running an online auction fundraiser!
The Boots and Hearts Barn Burner will be auctioning off a number of fun and unique items to bid on to raise money for our organization!
Proceeds are in support of the Royal Victoria Regional Health Centre's NICU, Ontario Easter Seals, Canadian Mental Health Association, The Barrie Colts Community Fund, The Rotary Club of Barrie-Huronia, Kempenfelt Rotary Club, and PIE Education.
Auction items range from vacation getaways and travel vouchers to donated items that are guaranteed to delight and surprise. So, tell your friends, family, and community and let the bidding games begin!
A tremendous thank you to all of our partners and sponsors, without whom this event would not be possible.
Show your support by clicking on the "Donate Items" button to contribute to our catalog.

Give a little and get a lot in return.
Whether you have 1 item or 100 to contribute, your participation is an invaluable part of our fundraising efforts. By donating an item or service directly online, you'll be helping to raise money for our organization, and you'll receive a mention on our site that can link back to your own web page.