Auction Links
Top Bidders
sb4f8172a

$111

sl381448a

$100

cmb080574

$100

ac1c6218b

$80

rfbc04194

$75

izmo

$40

eadkfreund

$12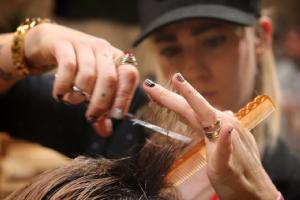 Her Chair His Hair is getting ready to bring you another fun event!
Live Event Details
Sun Oct 6, 2019
12PM - 10PM EDT
JA Studios NYC
355 West Broadway New York, NY 10013
Add to My Calendar
Get Directions
Her Chair His Hair first began 6 years ago this June as an icebreaker in the form of a social media platform to reach out to the hundreds and thousands of underrepresented women in the Barber industry.
Over the years we have developed our brand and our definition of what it takes to be a Barber but our mission remained the same: given women an equal platform in an industry historically dominated by men.
Going forward, 100% of the proceeds raised at our events, and throughout the year, will go toward micro loans and scholarships for women in our industry whom may typically encounter difficulty obtaining funds to help pursue their career, start a new business or to grow the one they already have. We will be partnering with Kiva another 501(c)3 charity, to ensure the disbursal of the micro loans is a smooth and effortless process.
Kiva is a non-profit, crowd-funded lender providing access to 0% interest loans up to $10,000 for startups and established small businesses in NYC. Their mission is to eradicate financial exclusion by not relying solely on credit score or traditional qualifications, something we find to be a top priority to eventually achieve financial and career equality.
In the last 4 years, we have raised approximately $16,000 for charity, $8,000 of that alone last year. This year we are so excited to truly create an ongoing cycle of "paying it forward" to the women who have the drive and talent, but require the boost financially. Your support will help make our 5th NYC Showcase & Fundraiser an even bigger success and lay the foundation for success in a long standing industry across the country.
Big "Thank You" To Our 2019 Gold Sponsors!