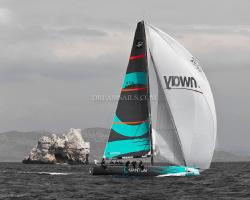 TP 52 Super Series Onboard Experience With QuantumRacing
Through the generosity of Quantum Sails, the 2019 Melges 24 North American Championship is pleased to offer, via an online auction, an opportunity to race aboard Quantum Racing in the 52 Super Series.
Bidding will being Friday, August 9, at 5 pm EST, and end on Thursday, August 15, at 9 pm EST.
Experience the thrill first-hand as a guest onboard TP52 Quantum Racing in the 2019 or 2020 52 Super Series.
Prize includes round-trip airfare* and two nights accommodation for one person.
Available dates for this guest opportunity are:

· September 24th - 28th, 2019 Sardinia, Italy
· February 29 – March 6, 2020, Cape Town, South Africa
· March 30 – April 4, 2020, Cape Town, South Africa
· May 11 – 16, 2020, Scarlino, Italy
· June 16 – 21, 2020, Porto Cervo, Sardinia, Italy
· July 17 – 22, 2020, Valencia, Spain
· September 14 – 19, 2020, Puerto Portals, Mallorca, Spain

Each yacht carries one onboard guest as part of the racing crew**, and this is a very special opportunity to be part of a professional yacht racing team. The guest is not allowed to assist the team while racing except by hiking. Race day experience includes:

Pre-race crew meeting
Official team cap and crew shirt
Crew lunch on the race boat
Racing for a full day
Post-race crew debrief
Travel and accommodation to be arranged with Quantum team travel agent. You are welcome to extend your trip and/or bring a guest with you at your own expense. Additional participation with the team may be limited. Contact Libby Tomlinson, ltomlinson@quantumsails.com or 231-313-8898.
* Prize value toward airfare $1,200
** Owner-driver attendance TBD, which may influence availability of the onboard racing opportunity. Onboard opportunity may be offered only on training days and the official practice racing day if this limitation applies. Additional opportunities to view racing from the coach boat will be offered to supplement your experience
Recent News
Article By International Melges 24 Class Association - August 5, 2019 - Traverse City, Michigan, USA - The biggest, most major event of the season in North America for the Melges 24 Class is now a short two weeks away from its start. Corinthian teams looking to qualify for the all-amateur division continue with getting crew member sailor classifications from World Sailing confirmed, and the selection process, scheduling and notifications for random boat measurement are well underway.
Adding fuel to the starter flames, the North American Championship (NAC) is the sixth event on the hotly contested 2019 U.S. Melges 24 Class Association (USM24CA) National Ranking Circuit. Proudly to date it includes the participation of 66 teams representing all four corners of the United States, and international inclusions from Canada and Europe.
The NAC is also Event No. 2 on the International Melges 24 Class Association (IM24CA) North American Championship Series Circuit.
So far it has been a heated and dramatic season of racing. Italy's Andrea Pozzi at the helm of Bombarda took the first lead of the year at Bacardi's Melges 24 Winter Series Event No. 2. Then, Bruce Ayres' Monsoon and Travis Weisleder's Lucky Dog/Gill Race Team stepped up and into the top spot together, tied with equal points after Sperry Charleston Race Week. Weisleder seized opportunity at the U.S. Nationals, finishing second overall and taking a slim
Two completed events later, Kevin Welch with helmsman Jeff Madrigali on MiKEY put in the time to race the Columbia Gorge One Design Regatta (CGOD) in late July. The CGOD marked the first event on the 2019 Melges 24 West Coast Championship Series, but most importantly, catapulted Welch from fourth overall into the lead position.
Post NAC, only two events remain on the National Ranking Circuit - the California Cup hosted by the Santa Cruz Yacht Club on September 13-15, and the Canadian National Championship happens in Ontario, Canada on September 19-22.
The Melges 24 North American Championship is supported by Hagerty Insurance, Quantum Sails, Boston Whaler, Mercedes-Benz, Melges Performance Sailboats, Costa, Baird Wealth Management, Irish Boat Shop, TruNorth Financial Group, Tito's Handmade Vodka, Bevanda Products, Sail22, Good & Ugly, Coral Reef Sailing Apparel (CRSA), Folgarelli's, The Center Plastic Surgery and Skin Care, Crew Facility Services, Snowden Commercial, West Bay Boatworks, Off Grid Food Co., Third Coast Insurance Agency, Ellibee Irrigation and Prestige Worldwide.