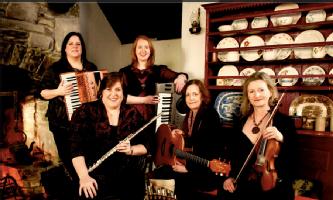 Cherish the Ladies Concert to Benefit the Sisters of St Clare
On Tuesday, December 10, 2019, Joanie Madden and Cherish the Ladies band will be in Clearwater, Florida to present a Celtic Christmas Concert. This joyous show - featuring holiday music and dance - will benefit the Sisters of St. Clare of the Eastern US Region, particularly the Sisters' ministry and retirement needs.
One of the most engaging and successful groups in the history of Celtic music, Joanie Madden and Cherish the Ladies music and dance ensemble have shared timeless Irish traditions with audiences worldwide for more than thirty years. In their Celtic Christmas program, the Ladies put their signature mark on classic carols such as "O Come All Ye Faithful" and "Silent Night." Their arrangements highlight the group's unique Celtic instrumentation, beautiful harmonies and spectacular step dancing. Everyone loves the Cherish the Ladies Christmas show - it sells out wherever it is presented.

Live Event Details
Tue Dec 10, 2019
6PM - 9PM EST
James B. White Performing Arts
(On the campus of Clearwater Central Catholic High School) 2750 Haines Bayshore, Clearwater, Fl 33760
Add to My Calendar
Get Directions
Doors open at 6:30 pm with 50/50 Raffles and Basket Auctions available between 6:00pm and 7:00 pm. The show begins at 7:00 pm. The show will last 2 hours with one 15 - minute intermission.

Buy your tickets now
Tickets are $35 each, open seating.

To purchase tickets online, there are 4 steps:
1. Registration - Click on "Order Tickets" button above.
2. A new page will appear and click on "Register" in the yellow rectangle.
3. Enter your contact information and credit card information. Check "I agree to terms" and click "Register".
4. A page will then apper on which you may order tickets. Under "Quantity" indicate the number of tickets you wish to purchase, then click "Order Tickets."