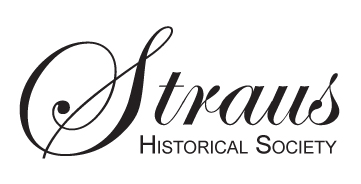 Announcing the SHS Online Auction
Starting on December 1, 2019, and continuing for two weeks, the Straus Historical Society's online auction will be offering a wide veriety of goods and service sure to interest, delight and amaze the auction participants.
The proceeds of the auction will support SHS's many projects, including our educational programs, historical preservation, digitization initiative and our exciting SHS scholarship program. The Straus scholarship program aims to continue the family legacy of commitment to public service and philanthropy by awarding one, or more, $5,000 scholarships towards the continuing education of a graduate student whose professional goal is in the field of public service or philanthropy.
Tell your family! Tell your friends!
Participate anywhere and anytime: from the comfort of your couch, or during a break at work, on vacation or in the middle of the night!

In order to participate, you must register. Click Register to Bid and follow the instructions.

Check back often as items will be added during the auction period.
Let the bidding begin!



Make Your Bid to Support the Ongoing Mission of Education and Public Service
Now is your chance to not only bid on many great items, but to do it knowing you are helping support our organization's educational and historical mission as well as the Scholarship Program.