Auction Links
Top Bidders
kr30ee0ef

$860

tsddb24d7

$750

jf917ba1e

$500

dse2a60a9

$395

spoloni

$322

tdd29a722

$295

medffbb9c

$223

mb6776e60

$219

ksec30acd

$185

dr2c7d563

$138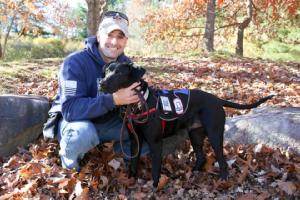 OPERATION DELTA DOG is a nonprofit with a mission to rescue dogs and train them to be service dogs for veterans struggling with post-traumatic stress disorder, tramatic brain injury, military sexual trauma and related challenges.
Starting on October 24, 2019, OPERATION DELTA DOG INC will be auctioning off a number of fun and unique items to bid on to raise money for our organization.
Make a bid today to help us continue our mission!
Live Event Details
Sat Nov 9, 2019
10AM - 1PM EST
Great Brook Farm State Park
165 North Rd, Carlisle, MA 01741
Add to My Calendar
Get Directions
Join in the fun to make a real difference in the lives of disabled veterans! It's the 7th Annual Walk and Wag for Veterans on Saturday, November 9th from 10 AM to 2 PM. All proceeds will benefit Operation Delta Dog: Service Dogs for Veterans. What? A scenic walk, food trucks, vendors, music, 100.7 WZLX's Karlson & MacKenzie; a silent auction, raffles, Touch-a-Truck display of military vehicles; kids activities; service dog demonstrations and MA. Mounted Police Equestrian demonstration. Join us at Great Brook Farm State Park, 984 Lowell St. Carlisle, MA. For more details and to register, go to www.walkandwagforveterans.com