Auction Links
Top Bidders
scMay

$321

chuckysmom

$122

eocd4ae7a

$111

fultz

$96

kaakaa

$89

asa0b01ac

$61

davislady

$55

jb893048b

$45

vmfgal

$43

tjbrolley

$40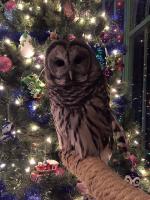 The Holiday Auction is now closed!

Items will be shipped to the address submitted when registering with BiddingforGood. If you win more than one item, we'll make every effort to ship items together to save on shipping costs.
Items will ship as soon as credit cards are processed. If you have any specific shipping instructions, such as sending to an alternate address as a gift, please email Diane at diane_broadbent@bellsouth.net as soon as possible.
Thanks to all our donors and bidders for making this event a success. All of us at Broadbent Wildlife Sanctuary wish you and your families a Happy & Healthy Holiday!
Broadbent Wildlife Sanctuary is a 501(c)3 nonprofit organization in Kentucky whose mission is to rescue sick, injured and orphaned wildlife throughout the state. Our staff works 365 days a year to provide care to wildlife in need, with the goal of rehabilitation and release back into their native environment. Our staff provides medical treatment as well as loving supportive care to thousands of animals each year. Hundreds of wildlife babies are raised in our nursery and released every summer. Broadbent also serves as a safe haven and a lifelong home for abandoned or abused exotic birds and other former pets. Our Educational Ambassadors and trainer teach children and adults about wildlife and to respect all animals.
For more information on Broadbent Wildlife Sanctuary, visit www.BroadbentWildlife.org, and don't forget to check us out on FACEBOOK!