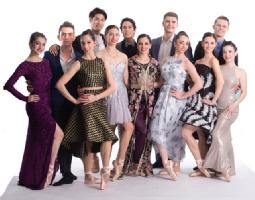 We hope we can count on your support!
Due to our Annual Gala and performances being cancelled, we hope you'll consider bidding on one of our fantastic Online Auction items. All proceeds benefit us -- Diablo Ballet Dancers.
We realize this pandemic is affecting the entire economy and everyone personally, but by participating in this auction, you will be helping us immensely. What better way to support your favorite ballet company and small businesses alike.
All proceeds benefit us, our PEEK Outreach Program for Title-1 students, at-risk teenage girls incarcerated in the Juvenile Justice System and adolescents at the Behavioral Health Inpatient Unit at John Muir Hospital in Concord. Read more.
Thank you so very much for your generous support!
Diablo Ballet Dancers: Amanda Farris, Dajana Klos, Jackie McConnell, Olivia Powell, Jordan Tilton, Donghoon Lee, Felipe Leon, Robert Vega-Ortiz, Raymond Tilton, Michael Wells, Olivia Cole and Alina Gonzalez
Bidding ends on Tuesday, March 31st, at 7 PM PST so don't miss out on the deals.
Diablo Ballet is not responsible for any technical errors or situations caused by the Bidding for Good system.
Live Event Details
This lively event lets you meet and mingle with the Diablo Ballet dancers, following their 26th Anniversary performance at Walnut Creek's Lesher Center for the Arts. The Gala offers wine-tasting, live music, and a sensational dinner at the charming Scott's Seafood, walking distance from the Lesher Center, (1333 N. California Blvd, Walnut Creek). Join us for this magical evening!
To purchase tickets to the 8:00 pm Gala Dinner at Scott's Seafood, please call 925.943.1775.
To purchase tickets to the 6:00 pm 26th Anniversary performance at the Lesher Center, please click here.
Diablo Ballet Dancer's Top Picks!