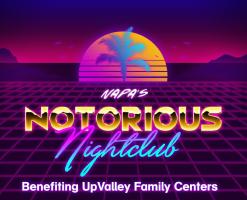 VIVA! Napa Valley Has Now Closed
Thank you for participating!
The UpValley Family Centers VIVA! Napa Valley 2020 auction has concluded. Thank you all for taking the time to point, click, and bid to benefit the UpValley Family Centers. Our success is made possible by the support of friends like you!
Congratulations and thank you to everyone who:
Placed a winning bid or donated to Fund the Future;

Generously donated an item for auction; and

Invited their family, friends, and community to place their bids and build a better world for our community.

Your support provides vital services for low-income communities in the northern Napa Valley, including:
Access to health care for seniors

ESL and adult education classes

Pre-Kindergarten playgroups that foster a love of reading and help kids prepare for a lifetime of success in school

Financial Coaching

Mentorship and college-prep programs for at-risk teens

Application assistance and civics tutoring for immigrants seeking a pathway to citizenship

Disaster recovery and emergency assistance

Guided referrals, information, and support for isolated rural communities

On behalf of the families we serve, Thank You! Your support has helped build a stronger community for us all.
See you next year!
Thank you to our Generous Sponsors:
Susanne and Ed Hudson