THE LOWCOUNTRY FOUNDATION FOR WOUNDED MILITARY HEROES
10 Years of Honoring Our Heroes
Auction Now Open!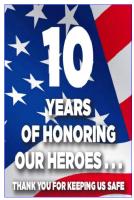 Who We Are
The Lowcountry Foundation for Wounded Military Heroes (LFWMH) is a local, all volunteer, non-profit charity in its 10th year of raising funds to honor and help serve the needs of Wounded Military Heroes who have served in post 9/11 combat.
The defining tenet of the Foundation's mission is to support wounded veterans in the South Carolina and Georgia Lowcountry as they assimilate back into civilian life. Through charities vetted and approved by Birdies for The Brave, a PGA Tour affiliate, LFWMH's mission continues to be fulfilled through the many initiatives the LFWMH undertakes. From service canine programs, to scholarships for children who have lost a parent in service to our country, to mortgage free homes for wounded veterans, showers for military families and more, LFWMH's continued goal is to support these life changing programs for those who need them.
For more information on our organization, please go to our website: www.LFWMH.org.
We need your help.
While the COVID-19 crisis continues to be an unprecedented challenge, the need for support of wounded veterans and the programs they rely on is greater than ever. LFWMH's mission to raise money in support of our local wounded heroes will go on. Through the generosity of our sponsors, donors, and contributors, we invite you to our first ever online auction.
Starting on September 8, 2020, the LFWMH will be auctioning off a number of fun and unique items to raise money for our organization. Please show your support by registering to bid and spreading the word about our auction to family, friends, work associates - in short, to everyone you know! The more potential donors we reach, the more money we can raise, so we are asking for your help.
Give a little and get a lot in return.
Bidding begins on September 8th, at 6:00 p.m.; we hope you will join us in supporting our organization. Thank you and happy bidding!!
Ten Years of Honoring Our Heroes...
...Thank You For Keeping Us Safe.