Donate Cash
Auction Links
Top Bidders
shevitz

$1,200

ao34fab65

$762

mcd6f2db6

$736

mb4bb9c9f

$670

to2aee3f6

$615

ega2626b1

$605

bg729dbc5

$594

ad432567f

$575

defd69b32

$525

mp9f26e58

$501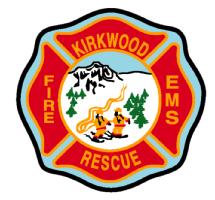 Welcome to the Kirkwood Virtual Summer Festival & the Kirkwood Volunteer Fire Department's Annual Online Auction. In 2020, the auction is focused on raising funds for a Light Rescue Command Vehicle.
The Kirkwood Summer Festival is the signature fundraiser for the Kirkwood Volunteer Fire Department (KVFD). More than ever before, we need your support. The goal for this year is to raise $30,000 to upgrade our aging fleet of vehicles.
How you can help:
SHOP THE ONLINE AUCTION: BROWSE & BID GENEROUSLY: There are lots of unique and seriously fun items this year. We need your support to contribute $10k from the online auction to the KVFD.
DONATE MONEY: Click on Donate Now. Or you may send a check payable to the KVFD to P.O. Box 247, Kirkwood, CA 95646. Your donation is tax-deductible and supports the Kirkwood Volunteer Fire Department, a 501(C)(3) – EIN 47-1853858.
ATTEND THE VIRTUAL EVENT: Watch the Virtual Summer Event Live on Tube with us July 5, 2020 from 5 - 6 pm PDT to celebrate and honor our volunteer fire department. See them in action in the videos. Dress up in festive 4th of July clothing or wear your S-I-P clothes! Mark your calendar and plan to join us at the first Kirkwood Virtual Summer Event.
About the KIRKWOOD VOLUNTEER FIRE DEPARTMENT: Serving the Kirkwood Community Since 1972 The KVFD responds to emergency medical calls, structural and wildland fires within the Kirkwood Valley and surrounding areas, and provides assistance with vehicle accidents, hazardous spills and search-and- rescue covering an area east to Carson Pass and west to Tragedy Springs Road on Scenic Route 88. The KVFD also works in partnership with the Eldorado National Forest, California Department of Forestry, Alpine and Amador Counties, and many other agencies to promote fuels reduction and water conservation efforts.
Kirkwood Virtual Summer Festival-IT's ON!
Support Kirkwood's Front-Line Heroes!
Thank You to Our Sponsors!
Stay Home and Bid to Win on Items Like These!