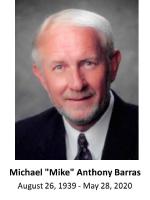 Iberia Crimestoppers is dedicating this year's fund raising effort
to Mike Barras who passed away on May 28, 2020
at his home while with family.
Mike was instrumental in the conception and implementation
of this online auction. Mike was a beloved member of
our community and was dedicated to many organizations,
including Iberia Crimestoppers.
Mike left a positive mark on the communities of Acadiana.
He served as a board member of Lafayette Crime Stoppers
for over 20 years.
He was a founding member of Iberia Crime Stoppers
and served as its president for the past five years.
We are honoring his memory by launching the website
on his 81st birthday, August 26.
He will be sorely missed.
Memorial contributions may be made to:
Iberia Crime Stoppers, PO Box 11235, New Iberia, LA 70562
or
www.paypal.me/iberiacrimestoppers
Please participate and support Iberia Crimestoppers' first online auction!
Iberia Crime Stoppers Online Auction is now OPEN!
Auction items range from gift certificates to art to donated items guaranteed to delight and surprise. So, tell your friends, family, community.
Let the bidding begin!
If shipping is available on items sold to out of town bidders, the shipping cost noted on each item.
Credit card processing fee of 3.4% will be added to all winning bids, no tax.
The online silent auction ends October 2, 2020 at 10am.
Iberia Crime Stoppers Inc will be auctioning off a number of fun and unique items to bid on to raise money for our organization - and the more items we have the more money we can raise, so we're asking for your help.
Give a little and get a lot in return.
Your participation is an invaluable part of our fundraising efforts. By participating in our auction, you'll be helping to raise money for Iberia Crime Stoppers.
CRIME STOPPERS IN IBERIA PARISH, LA
Your Trusted Crime Prevention Authority
Support crime stoppers in Iberia Parish, LA. If you have any tips regarding criminals or unsolved crimes, don't hesitate to contact Iberia Crime Stoppers. We are your crime stoppers, and we are here to attentively listen and analyze your reports. You can receive up $1000.00 for an anonymous tip. Please call (337) 364-8477 (TIPS) and be rewarded.
IBERIA CRIME STOPPERS
www.iberiacrimestoppers.com
www.facebook.com/iberiacrimestoppers
(337) 364-8477 (TIPS)
REWARDS UP to $1,000
Donate here www.paypal.me/iberiacrimestoppers
Iberia Crimestoppers Mission Statement
Iberia Crime Stoppers mission is to provide an anonymous communications tool for Iberia Parish residents to enhance law enforcement agencies in removing criminals from the streets of our community.
We offer our services and rewards at no cost from any governmental agencies.
If you have information about any crime then you need to call 364-TIPS (8477) or use Crime Stoppers anonymous web-based tip reporting

Iberia Parish Crime Stoppers Objectives
FURNISH
To FURNISH law enforcement agencies with information on crimes, criminals and other criminal activity that they would otherwise be unable to obtain.
PROMOTE
To PROMOTE public cooperation and involvement with law enforcement and to reward such involvement.
IMPROVE
To IMPROVE police community relations through increased public awareness.
PREVENT
To PREVENT crimes before they are committed.
Help Resolve a Criminal Case
Have you witnessed a crime in Iberia Parish, LA? Perhaps you know something about a criminal featured in Crime of the Week on KLAF TV NBC and KADN TV FOX in Lafayette, LA? If you have any useful tips and information that may help our authorities resolve an offense, contact us using the phone number 337-364-5477 (TIPS). We are here to help you disseminate the valuable information you have while keeping your complete anonymity.