Featured Sponsor
Donate Cash
Auction Links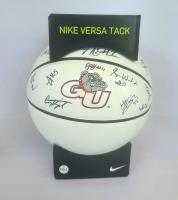 Our Silent Auction and Live Auction Items Are Up For Bid!
Home Cooking for a Cause is now open.
We are celebrating with a virtual live and silent auction along with Live Stream event on October 12th.
Silent Auction
The silent auction will run from October 1, 2020 at 7 p.m. to October 12, 2020 at 10 p.m.
Live Auction
Bid on the Live Auction Items here on this site. Live Auction items will begin closing at 7:00 p.m. on October 12th with the last item ending at 7:30 p.m.
Items included in the Live Auction are:
Wine Class for 14 -20 guest at Total Wine and More - closes at 7:10 p.m.
Personal 90-minute online make-up tutorial, make-up gift cards and items - closes at 7:15.
Private dinner at the EJ Roberts Mansion - closes at 7:20 p.m.
Dream Suite of Bedroom Furniture - closed at 7:25 p.m.
Basketball Signed by the 2019-20 GU Men's team - closes at 7:30 p.m.
Proceeds go to Greater Spokane County Meals On Wheels to feed seniors across Spokane County. Auction items range from restaurant certificates, kids activities, jewelry, coffee baskets and more!
These are great items to give to friends you haven't seen, put under the tree or keep for yourself. So, tell your friends, family, community. Let the bidding begin!
Live Event Details
Mon Oct 12, 2020
7PM - 7:30 PM PDT
Virtual
Greater Spokane County Meals on Wheels Kitchen 218 N. Crestline
Add to My Calendar
Get Directions
Silent Auction
Virtual Celebration and Auction Begins Thursday 10/1 at 7pm
Closes Monday 10/12 at 10pm
Live Auction
Items Available for viewing now!
Monday, October 12, 2020
Live Stream Precast begins at 6:30pm
Live Stream & Paddle Raise begins at 7pm
Make it a night with dinner from GSC Meals on Wheels. Our extraordinary kitchen staff has created a take-out meal complete with salad, dessert and spirits.
SOUTHERN-SPICED CHICKEN
This simple dish gets a sophisticated lift from a flavorful pan sauce which lends rich, complex flavor to our seared chicken. Dinner is $30 per person cooked.
Dinner comes with:
Salad
Green Beans
Personal bottle of Champagne (Must be 21 and older)
Gourmet Cupcakes


Order your meals online by 10 p.m. on Sunday, October 11th and pick them up Monday, October 12th between 2 and 6 pm at our kitchen. 218 N. Crestline.
Online special: $20 per person or $35 per couple
Make Your Bid to Support GSC Meals on Wheels!
Now is your chance to not only get great deals, but to do it knowing you are helping support our organization and mission. Greater Spokane County Meals on Wheels is headquartered in Spokane Valley but serves the entire 1,800 miles of Spokane County including the City of Spokane, Spokane Valley, Chatteroy, Cheney, Deer Park, Liberty Lake, Millwood, and the unincorporated areas of Spokane County. Over 300 volunteers are currently needed to deliver the daily meals served by GSC Meals on Wheels.