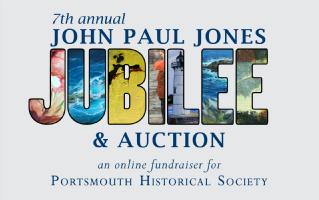 PORTSMOUTH HISTORICAL SOCIETY'S
7th Annual John Paul Jones
Jubilee and (Online!) Auction
Art, culture and history define Portsmouth and we realize that the artist commmunity has been hit hard by the pandemic. Portsmouth Historical Society has also seen financial challenges during this time. We have decided to use our annual fundraiser to both support our organization and our regional artists. Our Fund-a-Need campaign will be dedicated to raising funds for a outdoor art display.

Starting on September 10, 2020, and running through October 7, PORTSMOUTH HISTORICAL SOCIETY will host an online auction featuring artwork from a number of New England artists. 50% of the proceeds from each piece will go back to the artist.

For those of you who are enjoying this pre-live preview, please note that final edits may change the information for each piece of artwork slightly. We are doing our best to get this absolutely right for our artists.

Join Us! Be Generous! Live Artfully!
2020 Fund-A-Need
Our 2020 John Paul Jones Jubilee and Auction Fund-A-Need will allow Portsmouth Historical Society to commission a piece of public art or sculpture from a regional artist to be displayed on permanent view at the Discover Portsmouth Welcome Center. In this way, we can support local artists, celebrate public art, and help enliven our facility, which is considered to be the gateway to the rejuvenated West End of downtown Portsmouth!


To support our 2020 Fund-A-Need, please click on the "Donate Now" button on the right hand side of your screen. And THANK YOU in advance for your help!