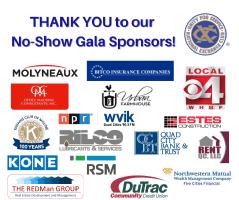 Welcome to the Child Abuse Council's No-Show Gala Silent Auction!
On September 14, 2020, CHILD ABUSE COUNCIL will begin auctioning off a number of fun and unique items to bid on as part of our No-Show Gala Fundraiser!

Your support will help children and families in our community recover from the trauma caused by the uncertainty, isolation, and stress of the pandemic.
YOU have been at the forefront of ensuring that the Child Abuse Council continues to lead community efforts to eliminate child abuse through your past support at our Annual Lifesaver Gala, THANK YOU!
In the spirit of physical distancing, we invite you to support and celebrate the mission of the Child Abuse Council by participating in our Silent Auction from the comfort of your own home.
The Silent Auction will end on September 25th - so check in regularly to secure your item(s)!
Thank you to our event sponsors!
We are so thankful for our sponsors and area businesses that so generously donated to make this event possible. We know this is a difficult time for all businesses and appreciate our sponsors continued dedication to supporting our mission and efforts to create safe, healthy childhoods in our community.
Just a few of the unique items available for bidding...