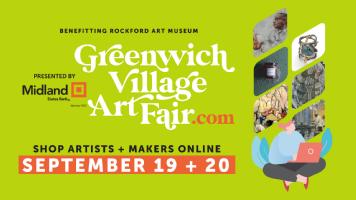 The Online Auction is Open!
The Greenwich Village Art Fair Silent Auction is now open. The auction will run from September 15, 2020 to September 20, 2020, with proceeds going to ROCKFORD ART MUSEUM in order to support our mission of fostering creativity and building community through visual arts. Auction items are provided by featured artists and makers participating in this year's Greenwich Village Art Fair. Thanks for your support!
Make Your Bid to Support Rockford Art Museum
Now is your chance to not only get all the great items you want, but to do it knowing you are helping support our organization and mission. (ADDITIONAL INFORMATION ABOUT YOUR ORGANIZATION OR MISSION).