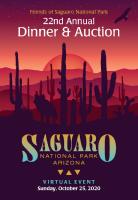 The 22nd Annual Friends of Saguaro National Park Dinner & Auction to benefit Saguaro National Park will take place throughout October. The event will begin on October 1st with the online auction and culminate on October 25th with the live virtual event. Each week, new items will be added to the online auction.
This years event will recognize and celebrate the amazing contributions of our loyal donors, committed volunteers and support from our corporate and community partners- who help fulfill our mission every day to help protect wildlife and habitat, preserve cultural resources, promote environmental education, improve recreational trails, enhance visitor experiences and build environmental stewardship at Saguaro National Park.
Due to the health and safety concerns presented by the coronavirus pandemic, we have decided to not have our in-person event at Tanque Verde Ranch. To provide dinner and direct business to local restaurants during these difficult times, we have partnered with Tucson Originals Restaurants. The virtual event will also allow our supporters from across the country to participate. Tickets are just $50 per person to participate in the virtual event or $100 to participate in the virtual event and receive a $50 Tucson Originals Restaurants gift card for dinner; reserve your place(s) by visiting www.friendsofsaguaro.org simply click on the "donation" button, enter the total ticket cost and in the "dedication" box enter "auction tickets and the name(s) of the attendees."
Thank you for your support of Saguaro National Park!