Top Bidders
ak562dc65

$166

beamlaw1

$163

jdd59d707

$55

bw8991e37

$30

Babs801

$27

ah515777f

$10

pf149fdce

$8

vp6a27621

$8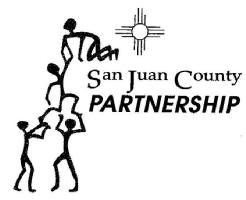 SAN JUAN COUNTY PARTNERSHIP, INC Mission Statement "Working together, with people of all ages and cultures, to develop community wellness and prevention awareness."
The Partnership provides prevention programming for youth and families; raises the awareness of prevention efforts; supports community planning activities and projects; serves as a forum for community input, networking and resource sharing; and, administers local, state and federal programs. Those who benefit from the Partnership are families, youth, schools, community agencies and organizations, government and private business, and the community at large.
The work of the Partnership is driven by a focus on health equity, ensuring everyone in the community equal access to social, economic and environmental opportunities.
Starting on November 20, 2020, SAN JUAN COUNTY PARTNERSHIP INC will be auctioning off a number of fun and unique items to bid on to raise money for our organization - and the more items we have the more money we can raise, so we're asking for your help.

Show your support by clicking on the "Donate Items" button to contribute to our catalog.

Give a little and get a lot in return.
Whether you have 1 item or 100 to contribute, your participation is an invaluable part of our fundraising efforts. By donating an item or service directly online, you'll be helping to raise money for our organization, and you'll receive a mention on our site that can link back to your own web page.
Become a Sponsor
Place your company's logo on our site that links back to your own web page and you could develop new business. We can track how often your logo is viewed and clicked to see just how many people are accessing your site.